Jurnal Pendidikan Bahasa dan Sastra (Journal of Language and Literature Education), publishes research-based articles in the field of language, literature, and learning. It is published twice a year, namely in April and October. The scopes of the topics include, but not limited to: 1) Foreign language learning, Indonesian language, vernacular language and Malay language learning; (2) Linguistics; (3) Applied Linguistics, and; (4) Literature. Articles can be written in English, Indonesian or Malay. Please send the articles to our OJS system.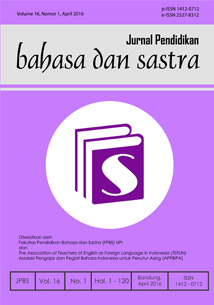 Announcements
CALL FOR PAPERS

JURNAL PENDIDIKAN BAHASA DAN SASTRA (JPBS) mengundang para peneliti, pengkaji, dan akademisi untuk menulis artikel di jurnal JPBS untuk Volume 18, No.1, April 2018.

(JURNAL PENDIDIKAN BAHASA DAN SASTRA (JPBS) invites all researchers, lecturers, and postgraduate students to participate in writing article for the Volume 18, No.1, Avril 2018)

Please submit your article to:

http://ejournal.upi.edu/index.php/BS_JPBSP/about/submissions#onlineSubmissions,

 and email: jbahasasastra@upi.edu. 

Posted: 2017-10-16

PETUNJUK BAGI CALON PENULIS

JURNAL PENDIDIKAN BAHASA DAN SASTRA

Posted: 2016-12-02
More...
Vol 17, No 1 (2017): APRIL 2017
Table of Contents
Articles
Ferry Fauzi Hermawan, Dana Waskita, Tri Sulistyaningtyas

10.17509/bs_jpbsp.v17i1.6955

Abstract views: 288

PDF downloads: 164




30-41