Indonesian Journal of Applied Linguistics (pISSN: 
2301-9468 and eISSN: 2502-6747
) is a  Journal of First and Second Language Teaching and Learning which has been indexed in Scopus and DOAJ since 2014. It is published three times a year in January, May, and September. We accept mainly research-based articles related to applied language studies. The language studied can be any language such as but not limited to English, Indonesian, German, French, Arabic, vernaculars, etc. However, the language to convey those ideas should be English.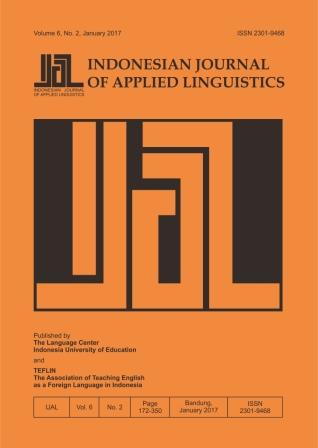 Announcements
Number of issues for 2017 volume

Latest Update
Posted: 2017-02-24
More...

Number of issues for 2017 volume

To accommodate more and more articles submitted to IJAL, starting 2017 IJAL will publish four issues a year. It will appear in Januar, April, July, and October. Every issue will consist of 25 articles. The number of words for each article is now between 2.500 words to 5000 words. The review process remains the same, blind review.
Posted: 2016-10-05

Deadline of submission

For those interested in publishing their articles in IJAL, please be aware that review process will start 4 months before an issue is published. For example, if you want to have your article published in January, your article should be sent before October. Please use our OJS system to send your articles and don't send your articles directly to our individual team.
Posted: 2016-08-11

IJAL is in SJR Now

IJAL has been included in SJR since June 2016. It is number 13 journal in Indonesia with H-index 1.

Thank you,

Regards,

 

Vice chief editor

Posted: 2016-06-14

IJAL has been recognized as an international Journal by Dikti

IJAL has been recognized by Dikti as a journal in Indonesia that has an international reputation. Therefore, it can be used for promotion by all faculty members working in linguistics, language teaching, literature and translation.
Posted: 2016-03-01
Vol 7, No 1 (2017): Vol. 7 No. 1, May 2017
Table of Contents
Articles
| | | |
| --- | --- | --- |
| | Irda Sulastri Binte Swandi, Jo-Ann Netto-Shek | 1-10 |
| | | |
| --- | --- | --- |
| | Ni Luh Putu Sri Adnyani, Ni Luh Sutjiati Beratha, I Nyoman Suparwa | 11-18 |
| | | |
| --- | --- | --- |
| | Mari Karen Lebumfacil Gabinete | 19-28 |
| | | |
| --- | --- | --- |
| | Nisreen Naji Al-Khawaldeh, Imad Khawaldeh, Baker Bani-Khair, Amal Al-Khawaldeh | 29-42 |
| | | |
| --- | --- | --- |
| | Hyeseung Jeong Jeong, Bosse Thorén, Juliana Othman | 43-53 |
| | | |
| --- | --- | --- |
| | Aunurrahman Aunurrahman, Fuad Abdul Hamied Hamied, Emi Emilia | 72-79 |
| | | |
| --- | --- | --- |
| | Sitti Nurfaidah, Nenden Sri Lengkanawati, Didi Sukyadi | 80-92 |
| | | |
| --- | --- | --- |
| | Yee-Han Chan, Ngan-Ling Wong, Lee-Luan Ng | 93-104 |
| | | |
| --- | --- | --- |
| | Kyung-Im Han, Hyekyeng Kim | 117-126 |
| | | |
| --- | --- | --- |
| | Deny Arnos Kwary, Dewantoro Ratri, Almira F. Artha | 131-140 |
| | | |
| --- | --- | --- |
| | Sudarsono M. I. Sudarsono, Devi Yunitasari, Muhammad Handi Gunawan | 141-148 |
| | | |
| --- | --- | --- |
| | Iyen Nurlaelawati, Nita Novianti | 160-166 |
| | | |
| --- | --- | --- |
| | Chuka Fred Ononye | 167-175 |
| | | |
| --- | --- | --- |
| | Sawsan A. Aljahdali | 176-180 |
| | | |
| --- | --- | --- |
| | Dian Yuliana, Ernie D.A. Imperiani | 181-188 |
| | | |
| --- | --- | --- |
| | Saudin Saudin, Iis Sulyaningsih, Lina Meilinda | 189-200 |
| | | |
| --- | --- | --- |
| | Emi Emilia, Nicke Yunita Moecharam, Iva Laela Syifa | 206-214 |
| | | |
| --- | --- | --- |
| | Puji Astuti, Jayne C. Lammers | 215-228 |
| | | |
| --- | --- | --- |
| | Hassan Ait Bouzid | 229-238 |