Jurnal EurekaMatikan (e-ISSN: 2528-4231) was first published annually on December 2013, and then biannual since 2017 on June and December. JEM is a peer-revied Mathematics journal scoped for Algebra, Analysis, Statistics, and Applied Math.
This journal was published by Mathematic Program Universitas Pendidikan Indonesia jointly with Himpunan Peneliti dan Pendidik Matematika Indonesia (HIPPMI).
Volume 1 Number 1 Year 2013 - Volume 5 Number 1 Year 2017 of this journal are avalailable in http://journal.fpmipa.upi.edu/index.php/eurekamatika/index.
Volume 5 Number 2 Year 2017 and the next are available in http://ejournal.upi.edu/index.php/JEM.
This Journal has been index by Portal Garuda.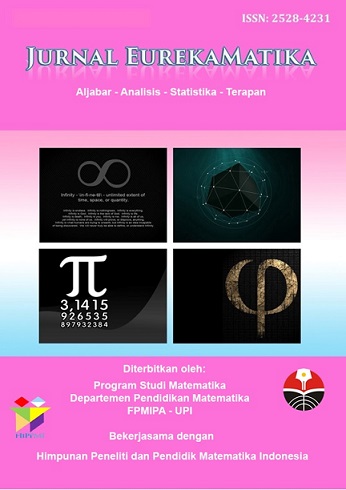 Announcements
No announcements have been published.
Vol 5, No 2 (2017): Vol. 5, No. 2 (2017): JURNAL EUREKAMATIKA
Table of Contents
Vol. 5, No. 2 (2017): Jurnal EurekaMatika
| | | |
| --- | --- | --- |
| | Moch. Ramadhan Mubarak, Encum Sumiaty, Cece Kustiawan | pp. 1 - pp. 9 |
| | | |
| --- | --- | --- |
| | Riska Megasari, Lukman Lukman, khusnul Novianingsih | pp. 10 - pp. 19 |
| | | |
| --- | --- | --- |
| | Srita Tania Bonita, Rini Marwati, Sumanang Muhtar Gozali | pp. 20 - pp. 28 |
| | | |
| --- | --- | --- |
| | Siti Nur Aisyah, Khusnul Novianingsih, Entit Puspita | pp. 29 - pp. 41 |
| | | |
| --- | --- | --- |
| | Ivan Luckiyana Firdaus, Rini Marwati, Ririn Sispiyati | pp. 42 - pp. 51 |
| | | |
| --- | --- | --- |
| | Hilma Mutiara Winata, Entit Puspita, Fitriani Agustina | pp. 52 - pp. 58 |
| | | |
| --- | --- | --- |
| | Alodya Ann Gita Alfa, Dewi Rachmatin, Fitriani Agustina | pp. 59 - 71 |
| | | |
| --- | --- | --- |
| | Reza Farhania Dewi, Rizky Rosjanuardi, Sumanang Muhtar Gozali | pp. 72 - pp. 80 |