JPIS (Jurnal Pendidikan Ilmu Sosial (English: Journal of Social Sciences Education)) publishes high quality manuscripts on research in the fields of social science education and social sciences. As for those included in the social science family are Geography, History, Sociology, Economics and Religion, Tourism, and Communication. JPIS publish twice a year in June and December.
e-ISSN: 2540-7694 | p-ISSN: 0854-5251
Editor in Chief: Mamat Ruhimat
Publisher: Fakultas Pendidikan Ilmu Pengetahuan Sosial, Universitas Pendidikan Indonesia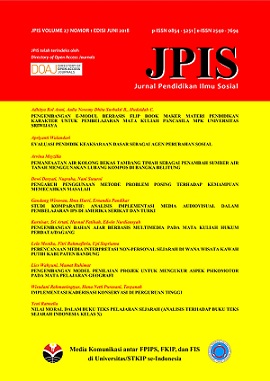 Announcements
No announcements have been published.
Vol 27, No 1 (2018)
Table of Contents
RESEARCH ARTICLE
Adhitya Rol Asmi, Aulia Novemy Dhita Surbakti, Hudaidah C.

10.17509/jpis.v27i1.9395

Abstract views: 119

PDF (Bahasa Indonesia) downloads: 79

1 - 10
Kurnisar Kurnisar, Sri Artati, Husnul Fatihah, Edwin Nurdiansyah

10.17509/jpis.v27i1.8611

Abstract views: 69

PDF (Bahasa Indonesia) downloads: 54

52 - 60
Lela Monika, Fitri Rahmafitria, Upi Supriatna

10.17509/jpis.v27i1.10328

Abstract views: 40

PDF (Bahasa Indonesia) downloads: 82

61 - 75
Wisudani Rahmaningtyas, Hana Netti Purasani, Tusyanah Tusyanah

10.17509/jpis.v27i1.8691

Abstract views: 57

PDF (Bahasa Indonesia) downloads: 47

87 - 102
CLASSROOM ACTION RESEARCH
LITERATURE REVIEW
Gandung Wirawan, Ibnu Hurri, Ernandia Pandikar

10.17509/jpis.v27i1.10327

Abstract views: 186

PDF (Bahasa Indonesia) downloads: 119

43 - 51
Lies Wahyuni, Mamat Ruhimat

10.17509/jpis.v27i1.11186

Abstract views: 65

PDF (Bahasa Indonesia) downloads: 62

76 - 86