Indonesian Journal of Applied Linguistics (pISSN: 2301-9468 and eISSN: 2502-6747) is a journal that publishes original papers researching or documenting issues in applied linguistics. It is published by UPT Balai Bahasa, Universitas Pendidikan Indonesia. This journal is indexed in DOAJ, EBSCO, Google Scholar, Scopus, and SINTA (S1).
Since Volume 7, the journal has regularly published three times a year in January, May, and September. We accept original research, conceptual, and best practice articles related to applied linguistics. The language studied can be any language such as but not limited to Arabic, English, French, German, Indonesian, Japanese, Korean, indigenous and modern languages. It is important to bear in mind that the official language of the journal is English.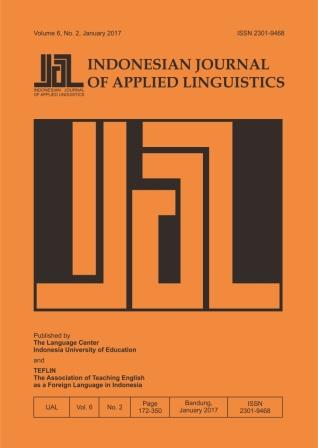 Announcements
Review Schedule

Annual review schedule is every February, June and October
Posted: 2021-02-15
More...

APC

IJAL applies Article Processing Charges (APCs) for the edition of May 2021 onwards.
Posted: 2021-02-14
More...

Loss Submission

Dear Contributors of the Indonesian Journal of Applied Linguistics,

We have noticed that some of the submissions to the Indonesian Journal of Applied Linguistics has been missing due to malicious malware attack in October 2019. 

So, if you have submitted your manuscript(s) to the editor through the system, but have not heard anything back from the editorial team, and can provide a screenshot of your submisison as evidence, please contact ijal@upi.edu.

 

Sincerely your,

IJAL Editroial Team

Posted: 2020-05-17
More...

Submission Status

Submission Status
Posted: 2020-04-22
More...

IJAL in Scimago Journal Ranking

IJAL now is Q2 Scimago Journal Ranking
Posted: 2018-10-17
More...
Vol 13, No 2 (2023): Vol. 13, No.2, September 2023
Table of Contents
Regular Articles
| | | |
| --- | --- | --- |
| | Ahmad Sirulhaq, Indra Listyo, Maria Adriani, Siti Aisyiyah | 243-257 |
| | | |
| --- | --- | --- |
| | Akhmad Hairul Umam, Setiono Sugiharto, Christine Manara | 258-269 |
| | | |
| --- | --- | --- |
| | Anuncius Gumawang Jati | 270-282 |
| | | |
| --- | --- | --- |
| | Diana Kartika, R. Kunjana Rahardi, M. Aziz, Wahyudi Rahmat | 283-292 |
| | | |
| --- | --- | --- |
| | Ghuzayyil Mohammed Al-Otaibi | 293-305 |
| | | |
| --- | --- | --- |
| | Hari Bakti Mardikantoro, Muhammad Badrus Siroj, Esti Sudi Utami, Endang Kurniati | 306-316 |
| | | |
| --- | --- | --- |
| | Mohd Ridzuan Md Nasir, Mary Fatimah Subet | 317-332 |
| | | |
| --- | --- | --- |
| | Afendy Widayat, Ghis Nggar Dwiadmojo | 343-357 |
| | | |
| --- | --- | --- |
| | Alek Alek, Umar Abdullah | 358-367 |
| | | |
| --- | --- | --- |
| | Dmitry S. Khramchenko | 368-379 |
| | | |
| --- | --- | --- |
| | Majid Hojjat, Zuwati Hasim | 380-391 |
| | | |
| --- | --- | --- |
| | Nur Arifah Drajati, Lynde Tan, Agustina Tyarakanita, Surya Agung Wijaya | 392-406 |
| | | |
| --- | --- | --- |
| | Rina Supriatnaningsih, Ahmad Yulianto, Lispridona Diner | 407-417 |
| | | |
| --- | --- | --- |
| | Syahfitri Purnama | 418-429 |
| | | |
| --- | --- | --- |
| | Winda Setia Sari, Faruk S. U., Ursula Hurley | |
| | | |
| --- | --- | --- |
| | Hailay Tesfay Gebremariam, Abate Demissie Gedamu | |