Journal Title         Jurnal Civicus
Initials                   JC
Abbreviation        j.civicus
Frequency            2 issues per year (June and December)
DOI                         10.17509/civicus
Online ISSN         2656-3606
 
Jurnal Civicus is a peer-reviewed journal that publishes original and up-to-date research on Civic/Citizenship Education. This journal aims to develop concepts, theories, perspectives, paradigms, and methodologies in the study of Citizenship Education.
Jurnal Civicus is published by the Ministry of Citizenship Education in collaboration with the Association of Indonesian Pancasila and Citizenship Education Professionals (Indonesian Association of Pancasila and  Civic Education/AP3KnI),MoU AP3KNI
Jurnal Civicus invites to submit original and unpublished manuscripts on civics studies with a focus and scope Civics/CCitizenship Science, Values and Norm Education, Legal Education, Political Education, Classroom Action Research (Civic Education), Development of teaching and learning Civic Education (models, methods , media, sources, evaluation), Development of Civic Education textbooks, Study of learning content on Civic Education, Study of Civic Education curriculum in schools, Study of Civic Education curriculum in Higher Education.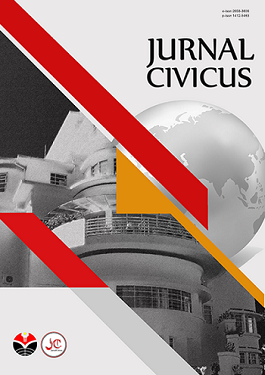 This journal has been ACCREDITED by the National Journal Accreditation (ARJUNA) and Managed by the Ministry of Research and Technology, Republic Indonesia with Sinta 5 from 2018 to 2023 according to the decree Nomor 200/M/KPT/2020.
Panduan Artikel:
Announcements
No announcements have been published.
Vol 23, No 1 (2023): JURNAL CIVICUS, JUNE 2023
Table of Contents
Articles
| | | |
| --- | --- | --- |
| | Salsabila Maharani, Siti Maizul Habibah, Riska Hilshcer | 1-10 |
| | | |
| --- | --- | --- |
| | Dewi Angel Simanjuntak, Karim Suryadi, Syaifullah Syaifullah | 11-18 |
| | | |
| --- | --- | --- |
| | Muhammad Andi Kurniawan, Tutik Wijayanti | 19-30 |
| | | |
| --- | --- | --- |
| | Rany Safitri, Sapriya Sapriya, Dadang Sundawa | 31-46 |
| | | |
| --- | --- | --- |
| | Siti Fatikhatus Syaadah, Zaenul Slam | 47-58 |
| | | |
| --- | --- | --- |
| | Rivi Ahmad Jalari, Endang Danial, Prayoga Bestari | 59-66 |
| | | |
| --- | --- | --- |
| | Reh Bungana Beru Perangin-angin, Angel Angelina Putri, Defna Nobirianto Putra | 67-78 |