JPIS (Jurnal Pendidikan Ilmu Sosial (English: Journal of Social Sciences Education)) publishes high-quality manuscripts on research in the fields of social science education and social sciences. As for those included in the social science family is Geography, History, Sociology, Economics and Religion, Tourism, and Communication. JPIS publish twice a year in June and December. JPIS is published by Faculty of Social Science Education, Universitas Pendidikan Indonesia. JPIS editors ensure that the article publishing process runs objectively through a double-blind review.
e-ISSN: 2540-7694 | p-ISSN: 0854-5251
Editor in Chief: Mamat Ruhimat
Publisher: Fakultas Pendidikan Ilmu Pengetahuan Sosial, Universitas Pendidikan Indonesia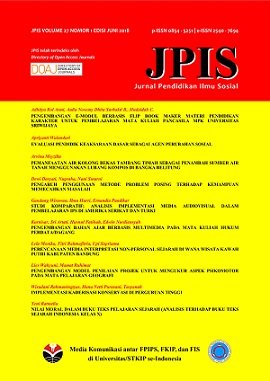 Announcements
No announcements have been published.
Vol 31, No 2 (2022)
Table of Contents
RESEARCH ARTICLE
| | | |
| --- | --- | --- |
| | Ahmad Zaenal Arifin, Agus Purnomo | 114-121 |
| | | |
| --- | --- | --- |
| | Lingga Agung, Wibisono Tegar Guna Putra, Adinda Maharani, Iqbal Raihan Ramadhan | 122-130 |
| | | |
| --- | --- | --- |
| | Fauzia Rahmawati, Hardien Raka Moch Isya | 131-138 |
| | | |
| --- | --- | --- |
| | Mupid Hidayat, Rama Wijaya Abdul Rozak, Bunyamin Maftuh, Maulia Depriya Kembara, Vini Agustiani Hadian | 149-159 |
| | | |
| --- | --- | --- |
| | Mia Desiany, Trisha Fauziah Zahra, Gilang Arya Alghifari, Muhamad Iqbal | 160-168 |
| | | |
| --- | --- | --- |
| | Rizki Nor Azimah, Puspita Indra Wardhani | 169-176 |
| | | |
| --- | --- | --- |
| | Dina Siti Logayah, Enok Maryani, Mamat Ruimat, Erlina Wiyanarti | 177-187 |
| | | |
| --- | --- | --- |
| | Faiz Urfan, Zidan Sihotang, Riko Arrasyid | 188-201 |
| | | |
| --- | --- | --- |
| | Slamet Widodo, Yuni Yulianti | 202-217 |