Wahana Fisika (e-ISSN: 2549-1989 http://ejournal.upi.edu/index.php/wafi/), peer-reviewed journal, offers an opportunity to publish scientific research related to physics and its applications. This journal is published by Physics Study Program, Universitas Pendidikan Indonesia and collaborated with Perkumpulan Pendidik IPA Indonesia (PPII).
This journal has been started from Volume 1 No. 1 Year 2016 until now and has been indexed by DOAJ (Directory of Open Access Journal) SINTA Research Technology and Higher Education Ministry, Google Scholar , and also Crossref Metadata Search. It is published twice a year in June and December. We recognize mainly research-based articles related to physics and applied physics.
DOI Prefix 10.17509/wafi oleh Crossref 
Indexed by Directory Open Acces Journal (DOAJ)
Accredited by Kemristekdikti SINTA 3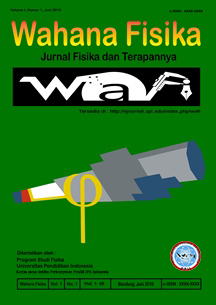 Announcements
No announcements have been published.
Vol 4, No 2 (2019): December
Table of Contents
Articles
| | | |
| --- | --- | --- |
| | Eko Tri Sulistyani, Yudisthira Iriana Putra | 67-80 |
| | | |
| --- | --- | --- |
| | Rizky Kurniawan, Nanang Dwi Ardi, Hidayat Hidayat | 81-88 |
| | | |
| --- | --- | --- |
| | Dini Hadiyani, Yuyu Rachmat Tayubi, Wawan Kurniawan | 89-97 |
| | | |
| --- | --- | --- |
| | Riska Tri Handayani, Sri Suryaningsih | 98-103 |
| | | |
| --- | --- | --- |
| | Ahmad Zaenudin, Ilham Dani | 104-110 |
| | | |
| --- | --- | --- |
| | Dian Milvita, Bagus Sidik Waskito Hadi | 111-119 |
| | | |
| --- | --- | --- |
| | Kartika Hajar Kirana, Gesti Cita Novala, Dini Fitriani, Eleonora Agustine, Maghfira Dwivani Rahmaputri, Fahmy Fathurrohman, Nabila Risty Rizkita, Nico Andrianto, Nita Juniarti, Rayna Aulia Zaenudinna, Muhamad Rovie Nawawi, Vanessa Zian Mentari, Muhamad Gina Nugraha, Yudi Mulyadi | 120-128 |