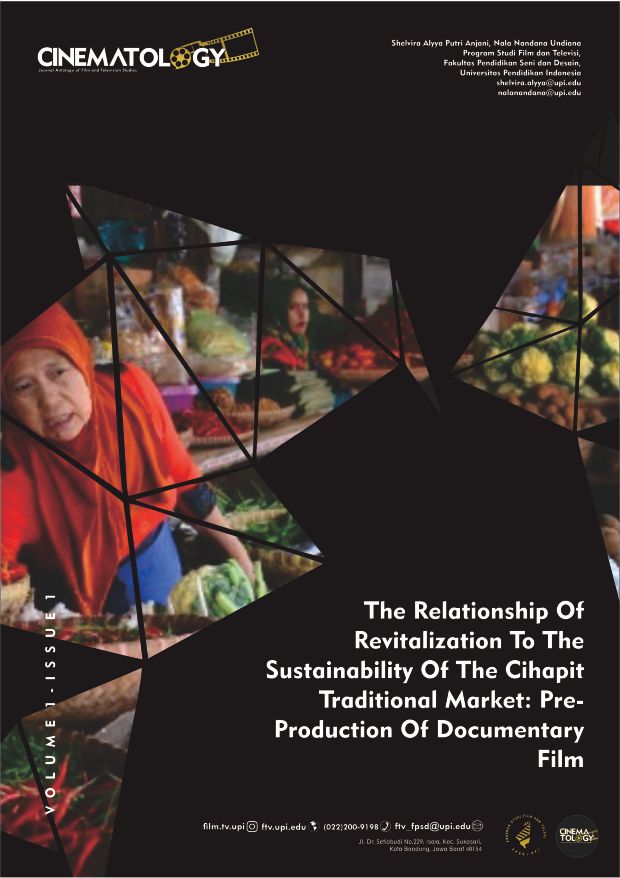 The Relationship Of Revitalization To The Sustainability Of The Cihapit Traditional Market: Pre-Production Of Documentary Film
Abstract
Revitalization is one of the government's efforts so that traditional markets can compete and survive amid the development of modern markets. This has been carried out in one of the markets in Bandung, namely Cihapit Market. This research was made with a quantitative method with a survey research design. The data used are the results of the use of survey research designs, the results of interviews through questionnaires of respondents from Cihapit Market traders regarding the effect of Revitalization that has been felt to date, which were tested by the Chi-Square method to see the relationship between Revitalization and the sustainability of traditional markets. The results of this study will test the hypothesis that has been made by the researcher, and show that revitalization is not related to the sustainability of the Cihapit Market to date. And also the results of this research will support the outcome of the documentary film project
Keywords: Revitalization, Market, Relationship.Documentary Film
Keywords
Revitalization, Market, Relationship.Documentary Film
References
Arianti, G. (2017). Kepuasan Remaja Terhadap Penggunaan Media Sosial Instragram Dan Path. WACANA, Jurnal Ilmiah Ilmu Komunikasi, 16(2), 180. https://doi.org/10.32509/wacana.v16i2.21
Ariyani, N. I., & Nurcahyono, O. (2014). Digitalisasi Pasar Tradisional: Perspektif Teori Perubahan Sosial. Jurnal Analisa Sosiologi, 3(1), 1–12.
Asma, N. (2016). Efektivitas Revitalisasi Pasar Tradisional Pa ' baeng -Baeng. Jurnal Ilmu Pemerintahan, 9, 103–110.
Budiasa, I. M. (2016). Paradigma dan Teori dalam Etnografi Baru dan Etnografi Kritis. Prosiding Seminar Nasional Paradigma Dan Teori-Teori Komunikasi Dalam Ilmu Komunikasi, 1, 9–24.
Cyntia Pratiwi, K., & Kartika, I. N. (2019). Analisis Efektivitas Program Revitalisasi Pasar Tradisional Dan Dampaknya Terhadap Pendapatan Pedagang Dan Pengelolaan Pasar Pohgading. E-Jurnal Ekonomi Dan Bisnis Universitas Udayana, 7, 805. https://doi.org/10.24843/eeb.2019.v08.i07.p06
DEVY PRAMUDIANA, I. (2017). Perubahan Perilaku Konsumtif Masyarakat Dari Pasar Tradisional Ke Pasar Modern. Asketik, Vol. 1. https://doi.org/10.30762/ask.v1i1.409
Hendry, R. S. M. (2019). Analisis Faktor-Faktor Yang Mempengaruhi Dividend Payout Ratio Pada Perusahaan Manufaktur Yang Terdaftar Di Bei. Ecobisma (Jurnal Ekonomi, Bisnis Dan Manajemen), 2(1), 1–11. https://doi.org/10.36987/ecobi.v2i1.57
Negara, I. C., & Prabowo, A. (2018). Penggunaan Uji Chi–Square untuk Mengetahui Pengaruh Tingkat Pendidikan dan Umur terhadap Pengetahuan Penasun Mengenai HIV–AIDS di Provinsi DKI Jakarta. Prosiding Seminar Nasional Matematika Dan Terapannya 2018, 1–8.
Ratna, N. K. (2016). Metode Penelitian. Yogyakarta: Pustaka Pelajar.
Stutiari, N. P. E., & Arka, S. (2019). Dampak revitalisasi pasar tradisional terhadap pendapatan pedagang dan tata kelola pasar di kabupaten Badung. E-Jurnal EP Unud, 8(1), 148–178.
Supiarza, H. (2019). Rekonstruksi Musik Keroncong Anak Muda di Kota Bandung. Universitas Padjadjaran.
Undiana, N. N., Sarbeni, I., Ardiansyah, A., & Razan, A. P. (2020). Komunikasi Massa pada Kerja Kuratorial Festival Film Sineas Mahasiswa 2020 di Bandung. 2, 15–29.
Wibowo, A. (2016). Uji Chi-Square pada Statistika dan SPSS. Jurnal Ilmiah SINUS, 4(2), 38.
Address :
Program Studi Film Dan Televisi, Fakultas Pendidikan Seni Dan Desain, Universitas Pendidikan Indonesia. Gedung FPSD - Jl. Dr. Setiabudi No.229, Isola, Kec. Sukasari, Kota Bandung, Jawa Barat 40154, Bandung, Provinsi Jawa Barat. (022)200-9198. ftv_fpsd@upi.edu

Cinematology: Journal Antology of film and television studies is licensed under a Creative Commons Attribution-NonCommercial 4.0 International License.
indexed by