Journal of Computers for Society (JCS) (e-ISSN:2723-4088) is an open access and peer-reviewed journal, published by Universitas Pendidikan Indonesia. JCS is a biannual journal issued on June and November. 
The Journal invites original articles and not simultaneously submitted to another journal or conference. The whole spectrum of computer science are welcome, which includes, but is not limited to
- Artificial Intelligence, IoT and Robotics
- Data Analysis and Big Data
- Multimedia and Design,
- Software Engineering,
- Computer Networking,
- Information System, and
- Applications of computer science in education, agriculture, government, smart city, bioinformatics, astrophysics, simulation and modelling, etc.
The editors welcome submissions of papers describing recent theoretical and experimental research related to:
(1) Theoretical articles; (2) Empirical studies; (3) Practice-oriented papers; (4) Case studies; (5) Review of papers, books, and resources.
Published every June and November.
Click here for Submitting Manuscript. An Article Processing Charge is FREE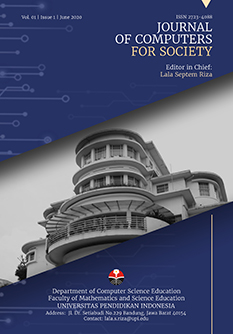 Announcements
EDITORIAL BOARD INVITATION

We are pleased to invite you to join the editorial board of Journal of Computers for Society (JCS).
Posted: 2020-05-31
More...
Vol 1, No 1 (2020): First Issue 2020