Journal of Language Studies (JoLS) is an international, double-blind peer-reviewed, open-access journal published by the Indonesian Association of Applied Linguistics (IAAL or Asosiasi Linguistik Terapan Indonesia - ALTI). The journal focuses on the following topics: language description, theoretical linguistics, applied linguistics, language teaching and learning, comparative linguistics, sociolinguistics, psycholinguistics, anthropological linguistics, computational linguistics, discourse analysis and etc. It provides an academic platform for professionals and researchers to contribute innovative work in the field. JoLS carries original and full-length articles that reflect the latest research and developments in both theoretical and practical aspects of linguistics of any natural human language.
The journal is published in online versions, which are free access and download.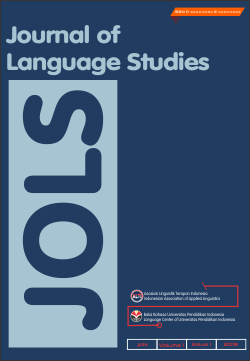 Announcements
No announcements have been published.