The Kokoh journal is a civil engineering journal which is published twice a year, namely in January and July.
eISSN 2828-5778 pISSN 1412-050X
The Kokoh journal are journals that contain manuscripts of research results and results of analytical studies in the fields of building construction, road and bridge transportation, water resource development and construction management that have not been published in other journals. Articles published in this journal are addressed to the editor's office. Complete information for article loading and article writing instructions are available in each issue. Incoming articles will go through a selection process for bestari partners or editors.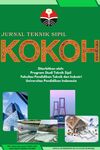 Announcements
NEW ARTICLE SUBMISSION VOL 22 ISSUE 1

The Editorial Team invites researchers, students, and lecturers to submit new and original articles to the KOKOH Civil Journal. We will accept article submissions until Monday, Januari 01, 2024.

Manuscripts must be written in Indonesian and have passed the proofreader stage. Please read carefully the online submission rules. Any article that does not comply with the rules will not be accepted.

Posted: 2023-09-04
Vol 21, No 2 (2023): Juli 2023
Table of Contents
Articles
| | | |
| --- | --- | --- |
| | Muhammad Irsan Arrasyid, Istiqomah Istiqomah, Ben Novarro Batubara, Budi Kudwadi | 67-80 |
| | | |
| --- | --- | --- |
| | Gunther Hercules Sirait, Felix Taihuttu, Fauzan A Sangadji | 81-96 |
| | | |
| --- | --- | --- |
| | Dwi Wisayantono, Eka Djunarsjah, Sendy Brammadi | 97-104 |
| | | |
| --- | --- | --- |
| | Redy Maulana, Mokhamad Nur Cahyadi | 105-114 |
| | | |
| --- | --- | --- |
| | Yudi Sekaryadi, Dadang Mohamad | 115-130 |