ACCREDITED by Ministry of Research and Technology/National Research and Innovation Agency)  No 85/M/KPT/2020, April 1, 2020. Certificate is available here
Strategic : Jurnal Pendidikan Manajemen Bisnis with registered number ISSN 1412-1964 (Print) and ISSN 2684-8066 (Online), is a peer-reviewed journal published two times a year (May and September) by Business Education Program, Faculty of Economic and Business Education, Universitas Pendidikan Indonesia. Journal Strategic is intended to be the journal for publishing articles reporting the results of research on business and entrepreneurship education. 
Strategic : Jurnal Pendidikan Manajemen Bisnis invites manuscripts in the various topics include Organizational Behavior, Leadership, Human Resources Management, Innovation, IT, Operations and Supply Chain Management, Marketing Management, Financial Management, Accounting, Strategic Management, Entrepreneurship and Education.
Journal Strategic cooperation with Ikatan Sarjana Ekonomi Indonesia (ISEI) Jawa Barat, Forum Manajemen Indonesia (FMI), Indonesia Marketing Associations.
Editor in Chief
Lisnawati, S.Pd., MM ID SCOPUS : 57193790043
DOI Prefix 10.17509/strategic by Crossref 
Terakreditasi Kemenritekdikti - SK Dirjen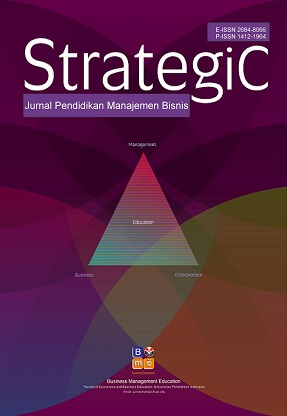 Announcements
Nationally Accredited based on the Decree of the Minister of Research, Technology and Higher Education, Number 23/E/KPT/2019 tanggal 8 Agustus 2019

Download National Accreditation/SK Akreditasi Journal Terakreditasi Kemenristekdikti pada Akun Berikut : 

JURNAL NASIONAL TERAKREDITASI STRATEGIC : JURNAL PENDIDIKAN MANAJEMEN BISNIS

Posted: 2019-08-21
More...

Strategic: Jurnal Pendidikan Manajemen Bisnis cooperation with Forum Manajemen Indonesia

Posted: 2019-07-11
Vol 23, No 2 (2023)
Table of Contents
Articles
| | | |
| --- | --- | --- |
| | Fadhillah Insani, Ika Darma Yuni, Chuzaimah Batubara | |
| | | |
| --- | --- | --- |
| | Essy Nur Nur Indrawati, Maya Sari, Sulastri Sulastri | |
| | | |
| --- | --- | --- |
| | Peni Rizki Yani, Lili Adi Wibowo, Lisnawati Lisnawati | |