The Journal: Tourism and Hospitality Essentials Journal (e-ISSN: 2549-9920 and p-ISSN 2460-366X) is a collection of articles of academic publication. The article could be based on conceptual or empirical research using the qualitative, quantitative, or mixed method approach. Tourism and hospitality themes within the field of management, marketing, planning, strategic management, financial and investment, sociology, geography, education, technology and information system, anthropology, law, and other related disciplines are encouraged to participate in this journal. The article would be peer-reviewed before being published, therefore, it is encouraged to comply with ethics for the publications.
The Journal started the publication in 2011 and is organized by Tourism Marketing Management Study Program, Universitas Pendidikan Indonesia.
The editors welcome the participation of authors to submit original papers that have never been published in other media and in other languages.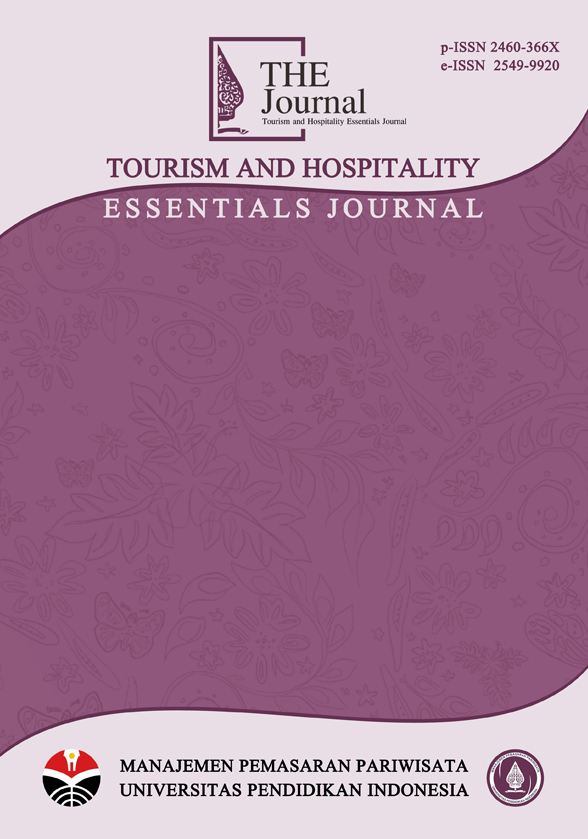 Vol 9, No 1 (2019)
Table of Contents
Articles
| | | |
| --- | --- | --- |
| | Nhu-Y Tran, Iván Alvarez León | 1-12 |
| | | |
| --- | --- | --- |
| | Nova Riana, Anti Riyanti | 13-20 |
| | | |
| --- | --- | --- |
| | Sabda Elisa Priyanto, Swastono Putro Pirastyo | 21-26 |
| | | |
| --- | --- | --- |
| | Heri Puspito Diyah Setiyorini, Rini Andari, Juju Masunah | 39-44 |
| | | |
| --- | --- | --- |
| | Muhammad Reza Fakhri, Sri Marini | 45-52 |