p-ISSN 2355-5343 | e-ISSN 2502-4795
Mimbar Sekolah Dasar (Elementary School Forum) is an international, peer-reviewed, multidisciplinary, and open-access journal that is online publishes three times a year every April, August, and December. Mimbar Sekolah Dasar only publishes articles in studies related to elementary school students, elementary school teachers, and pre-service elementary school teachers.
Mimbar Sekolah Dasar with eISSN 2502-4795 and pISSN 2355-5343 has been accredited by the Ministry of Research, Technology and Higher Education of Republic of Indonesia (Number: 30/E/KPT/2018).
CALL FOR PAPER FOR VOLUME 6 NUMBER 2 AUGUST 2019
We invite researchers and academics from all over the world to submit the high-quality manuscript.
Paper Submissions Deadline: 30th April 2019 
Mimbar Sekolah Dasar has been indexed by BASE, OAJI, ULRICHWEB, WorldCat, SINTA 3, Google Scholar, CiteFactor, SHERPA/ROMEO, Garuda, Udledge, Asian Digital Library, Crossref, CNKI Scholar, SJIF, Eurasian Scientific Journal Index, International Scientific Indexing, etc.
Impact Factor:
CiteFactor 2018: 3.9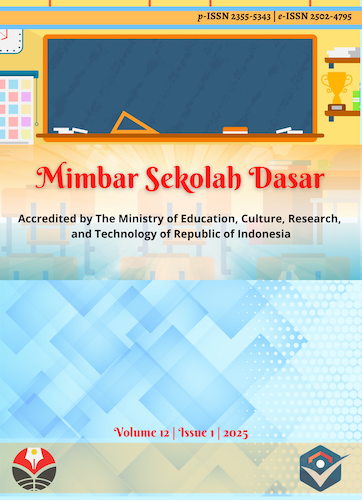 Vol 5, No 3 (2018): December
Table of Contents
Articles
M Habibi, Chandra Chandra, Ritawati Mahyuddin, S Hendri

10.17509/mimbar-sd.v5i3.14501

Abstract views: 161

PDF downloads: 55

145-154
Hafni Resa Az-Zahra, Sarkadi Sarkadi, Ishak Gary Bachtiar

10.17509/mimbar-sd.v5i3.12094

Abstract views: 146

PDF downloads: 55

162-173
Puji Rahmawati, Mohammad Adam Jerusalem, Aprilia Tina Lidyasari

10.17509/mimbar-sd.v5i3.13518

Abstract views: 116

PDF downloads: 58

174-185