p-ISSN 2355-5343 | e-ISSN 2502-4795
Mimbar Sekolah Dasar (Elementary School Forum) is an international, peer-reviewed, multidisciplinary, and open-access journal that is online publishes three times a year every April, August, and December. Mimbar Sekolah Dasar only publishes articles in studies related to elementary school students, elementary school teachers, and pre-service elementary school teachers, in the scope of 
teaching and learning, curriculum and development, assessment and instruction, school management, educational counseling, educational policy, and STEM in primary education.
Mimbar Sekolah Dasar with eISSN 2502-4795 has been accredited by the Ministry of Research, Technology and Higher Education of Republic of Indonesia (Decree: 30/E/KPT/2018).
Call for Papers for Volume 7 Number 3 (December) 2020
We invite researchers and scientists from all over the world to submit the high-quality manuscript.
Paper Submissions Deadline: 15 October 2020
Mimbar Sekolah Dasar has been indexed by ERIC, ULRICHWEB, Microsoft Academic, J-Gate, BASE, OAJI, WorldCat, SINTA 3, Google Scholar, CiteFactor, Dimensions, SHERPA/ROMEO, Garuda, Udledge, Asian Digital Library, Crossref, CNKI Scholar, SJIF, Eurasian Scientific Journal Index, International Scientific Indexing, Journal Factor, IP Indexing, Turk Egitim Indeksi, etc.
Impact Factor:
CiteFactor 2019: 5.27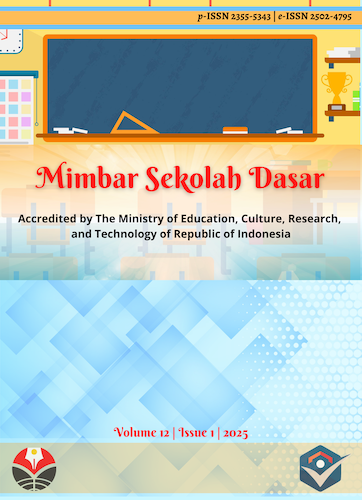 Vol 7, No 1 (2020): April
Table of Contents
Original Research Articles
| | | |
| --- | --- | --- |
| | Linda Hania Fasha, Siti Ruqoyyah | 1-15 |
| | | |
| --- | --- | --- |
| | Hafiziani Eka Putri, Puji Rahayu, Idat Muqodas, Mukhamad Ady Wahyudy | 16-29 |
| | | |
| --- | --- | --- |
| | Adeola Aminat Odebode | 30-42 |
| | | |
| --- | --- | --- |
| | Lateef Omotosho Adegboyega | 43-53 |
The 2nd International Conference on Elementary Education (ICEE 2019)
| | | |
| --- | --- | --- |
| | Dwi Kartini, Ari Widodo | 54-65 |
| | | |
| --- | --- | --- |
| | Fitri Nurzakiah Fuadi, Wahyu Sopandi, Ghery Priscylio, Ghullam Hamdu, Lidya Mustikasari | 66-81 |
| | | |
| --- | --- | --- |
| | Abdul Azis, Sitti Fithriani Saleh, Ade Irma Suriani | 82-92 |
| | | |
| --- | --- | --- |
| | Trisna Nugraha, M. Maulana, Palupi Mutiasih | 93-105 |
| | | |
| --- | --- | --- |
| | Hafiziani Eka Putri, Erna Suwangsih, Puji Rahayu, Gia Nikawanti, Elfriyani Enzelina, Mukhamad Ady Wahyudy | 119-132 |
| | | |
| --- | --- | --- |
| | Irfan Supriatna, Neza Agusdianita, Nani Yuliantini, Herman Herman, Resnani Resnani | 133-152 |
Developmental Research Articles
| | | |
| --- | --- | --- |
| | Hening Windria, Zulkardi Zulkardi, Yusuf Hartono | 153-170 |