e-ISSN 2477-3743  p-ISSN 2541-0024
Welcome
Jurnal Pendidikan Keperawatan Indonesia  (JPKI) is an open-access journal published by Universitas Pendidikan Indonesia. This Journal aims to improve nursing science development, especially in nursing education by publishing scientific papers from researchers, lecturers, and practitioners of nursing and health professionals both on a national and international.
JPKI has regularly published twice a year in June and December. We accept manuscripts written in English. Articles must be the result of research-based, case studies, results of literature studies with scientific concepts, knowledge, innovative and latest technologies within the scope of nursing. The article will be reviewed by reviewers from various institutions.
JPKI has been nationally accredited based on the Decree of Minister of Research, Technology and Higher Education Number 200/M/KPT/2020 with SINTA Score 3.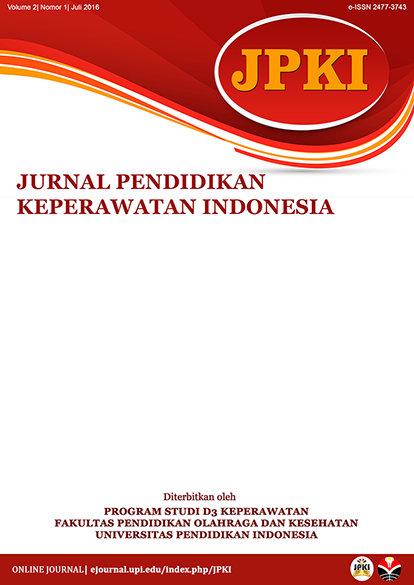 Announcements
New Authors Guidelines :Language and APC

 

Dear Author.

To improve the quality of JPKI for the international reader, starting in 2021, we only accept articles in English.
We also inform you that articles published starting in 2021 will increase to IDR 750,000.

Thank you

Posted: 2021-01-30

The 5th ICSSHPE (International Conference on Sport Science, Health and Physical Education)

Faculty of Sport and Health Education, Universitas Pendidikan Indonesia

Proudly Present : The 5th ICSSHPE (International Conference on Sport Science, Health and Physical Education).

Virtual Conference with Major Theme :
"The Improvement of the Quality of Life in The New Normal Era : Challenges and Opportunities from The Sport, Exercise, and Health Perspectives"

For Futhermore information, please visit the website ICSSHPE V

Posted: 2020-09-22
More...

JPKI is Indexed in DOAJ

As of September 8, 2020, Jurnal Pendidikan Keperawatan Indonesia has been indexed in 

Directory of Open Access Journal
Posted: 2020-09-08
Vol 9, No 1 (2023): Volume 9, Nomor 1, Juni 2023
Table of Contents
Original Research
| | | |
| --- | --- | --- |
| | Deva Nursilawati, Henny Cahyaningsih, Dhika Dharmansyah | 1-10 |
| | | |
| --- | --- | --- |
| | Fathi Dieni Hanifah, Nita Fitria, Ryan Hara Permana, Putri Karisa | 11-24 |
| | | |
| --- | --- | --- |
| | Anah Sasmita, Ahmad Husni, Desmaniarti Z, Kristoforus Triantono, Sehabudin Salasa | 25-36 |
| | | |
| --- | --- | --- |
| | Jiarti Kusbandiyah, Yuniar Angelia Puspadewi, Dinda Oktia Maghfiroh | 37-48 |
| | | |
| --- | --- | --- |
| | Vanny Fabianti, Fedri Ruluwedarata Rinawan, Nita Arisanti, Lisna Anisa Fitriana, Slamet Rohaedi | 49-58 |
| | | |
| --- | --- | --- |
| | Indra Ruswadi, Hasyim Asyari, Marsono Marsono, Akhmadi Akhmadi, Purwanta Purwanta | 59-68 |
| | | |
| --- | --- | --- |
| | Erna Irawan, Maidartati Maidartati | 69-78 |
Review Article
| | | |
| --- | --- | --- |
| | Nuraulia Aghnia Armansyah, Azalia Melati Putri, Wafiq Nurul Azizah, Ida Maryati | 79-82 |
Case Report/Case Study
| | | |
| --- | --- | --- |
| | Azka Aflahatinufus, Nur Oktavia Hidayati, Hendrawati Hendrawati | 83-92 |