e-ISSN 2477-3743  p-ISSN 2541-0024
Welcome
Jurnal Pendidikan Keperawatan Indonesia  (JPKI) is an open-access journal published by Indonesia University of Education. This Journal aims to improve nursing science development, especially in nursing education by publishing scientific papers from researchers, lecturers, and practitioners of nursing and health professional both on a national and international.
JPKI has regularly published twice a year in June and December. We accept manuscripts written in English. Articles must be the result of research-based, case studies, results of literature studies with scientific concepts, knowledge, innovative and latest technologies within the scope of nursing. The article will be reviewed by reviewer from various institutions.
JPKI has been nationally accredited based on the Decree of Minister of Research, Technology and Higher Education Number  34/E/KPT/2018 with SINTA Score 3.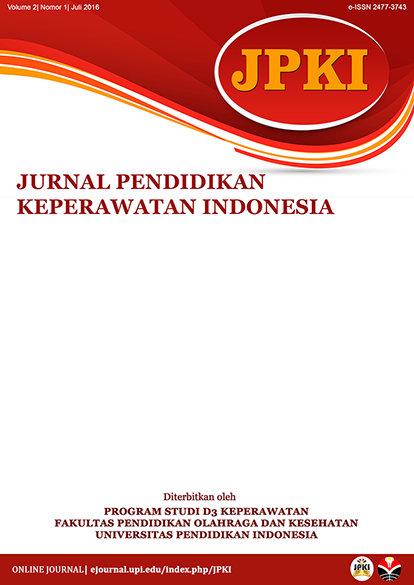 Announcements
New Authors Guidelines :Language and APC

 

Dear Author.

To improve the quality of JPKI for the international reader, starting in 2021, we only accept articles in English.
We also inform you that articles published starting in 2021 will increase to IDR 750,000.

Thank you

Posted: 2021-01-30

The 5th ICSSHPE (International Conference on Sport Science, Health and Physical Education)

Faculty of Sport and Health Education, Universitas Pendidikan Indonesia

Proudly Present : The 5th ICSSHPE (International Conference on Sport Science, Health and Physical Education).

Virtual Conference with Major Theme :
"The Improvement of the Quality of Life in The New Normal Era : Challenges and Opportunities from The Sport, Exercise, and Health Perspectives"

For Futhermore information, please visit the website ICSSHPE V

Posted: 2020-09-22
More...

JPKI is Indexed in DOAJ

As of September 8, 2020, Jurnal Pendidikan Keperawatan Indonesia has been indexed in 

Directory of Open Access Journal
Posted: 2020-09-08
Vol 7, No 1 (2021): Volume 7, Nomor 1 (2021)
Jurnal Pendidikan Keperawatan Indonesia (JPKI), Volume 7, Nomor 1, June 2021
Table of Contents
Front Matter and Back Matter
Original Research
| | | |
| --- | --- | --- |
| | Doddy Mulyadi, Riska Yulia Pujiati, Ni Gusti Ayu Eka, Sarah Lidya Cicilia | 1-7 |
| | | |
| --- | --- | --- |
| | Popy Siti Aisyah, Eli Lusiani, Anggriyana Tri Widiayanti | 8-16 |
| | | |
| --- | --- | --- |
| | Linlin Lindayani, Krisna Yetti | 17-24 |
| | | |
| --- | --- | --- |
| | Reni Puspitasari, Priyani Haryanti | 25-32 |
| | | |
| --- | --- | --- |
| | Aini Hayati Ihsar, Henny Suzana Mediani, Siti Yuyun Rahayu Fitri | 33-44 |
| | | |
| --- | --- | --- |
| | Dwi Setiowati, Waras Budi Utomo | 45-52 |
| | | |
| --- | --- | --- |
| | Ria Inriyana, Rudi Wisaksana, Kusman Ibrahim | 53-64 |
Brief Article
| | | |
| --- | --- | --- |
| | Lia Juniarni, Wini Hadiyani, Tri Antika, Linlin Lindayani | 65-72 |
Review Article
| | | |
| --- | --- | --- |
| | Nurul Hidayah, Mulia Hakam, Kushariyadi Kushariyadi | 73-83 |
| | | |
| --- | --- | --- |
| | Daviq Ayatulloh, Nursalam Nursalam, Ninuk Dian Kurniawati | 84-96 |