Kanayagan: Journal of Music Education is published by Program Studi Pendidikan Seni Musik, Fakultas Pendidikan Seni dan Desain, Universitas Pendidikan Indonesia, publish on February and August in a years. Provides a forum for lecturers, teachers, academicians, researchers, practitioners, and students to deliver and share knowledge.
The journal has focus on research comprises scholarly reports that enhance knowledge regarding music education, and music production (include music performance, music technology, music history, and music analysis).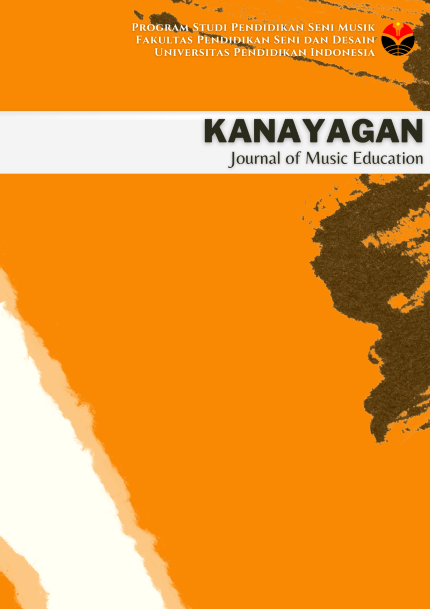 Announcements
No announcements have been published.
Vol 1, No 1 (2022): Pendidikan Seni di Era Disrupsi
Pendidikan memiliki peran penting sebagai proses mewujudkan generasi yang memiliki kemampuan dalam berpikir kritis, berkomunikasi, berkolaborasi, dan berkreasi. Secara formal, guru menjadi penggerak untuk mewujudkan harapan tersebut, di mana dengan kompetensi pedagogis yang dimilikinya berdampak kuat terhadap berlangsungnya proses pendidikan secara efektif. Kompetensi pedagogis merupakan landasan bagi guru guna mengimplementasikan gagasan-gagasannya dalam rangka mengembangkan proses belajar, mengajar, dan berkarya, menuju hasil optimal.
Table of Contents
Articles
| | | |
| --- | --- | --- |
| | Tri Agustini Ganaresmi | 17 - 25 |