Jurnal Administrasi Pendidikan (JAP) published on 2003 with the ISSN: p.1412-8152 e.2580-1007 and issued by Program Studi Administrasi Pendidikan Sekolah Pascasarjana Universitas Pendidikan Indonesia. JAP is a journal that focuses on publishing qualitative and quantitative research articles in the scope of Educational Administration including Leadership, Planning, Human Resources, Finance, Curriculum, Facilities and Infrastructure, Public Relations, Student Affairs, Learning and Management Education, and Organization.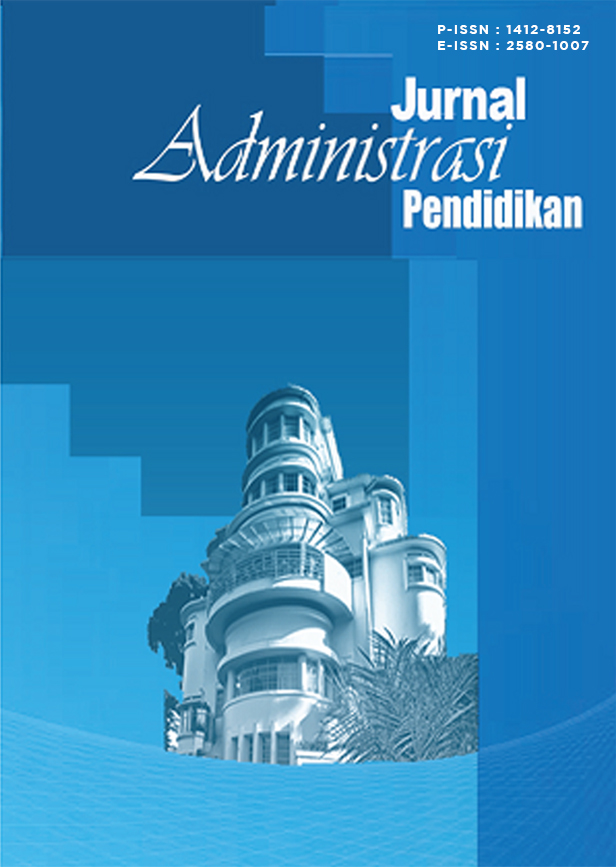 Announcements
Form Kesediaan Menjadi Reviewer atau Editor

kesediaan sebagai Reviwer dan Editor JAP
Posted: 2020-03-24
More...
Vol 29, No 2 (2022): JURNAL ADMINISTRASI PENDIDIKAN VOL.XXIX NO. 2 OKTOBER 2022
Table of Contents
Articles
| | | |
| --- | --- | --- |
| | Adli Adli, Diding Nurdin, Cepi Triatna, Muhammad Rezeki Muamar | 151-156 |
| | | |
| --- | --- | --- |
| | Imelda Anandiya Putri | 188-196 |
| | | |
| --- | --- | --- |
| | MASRIANDA MASRIANDA | 197-204 |
| | | |
| --- | --- | --- |
| | Siti Badriah, K.A Rahman, muazza . | 205-211 |
| | | |
| --- | --- | --- |
| | Novi Wulandari Purba | 212-214 |
| | | |
| --- | --- | --- |
| | Yenny Merinatul Hasanah | 222-227 |
| | | |
| --- | --- | --- |
| | Widiawati Widiawati | 228-243 |
| | | |
| --- | --- | --- |
| | I Ketut Suastika, Agus Joko Purwanto, Ade Reza Hariyadi | 244-250 |
| | | |
| --- | --- | --- |
| | Zahrawanni Niza Gunarko Putri | 256-260 |