Jurnal Profesi Bimbingan dan Konseling : Journal of Counseling Profession (JCP) is published by Guidance and Counseling Study Program, Faculty of Educational Science, Universitas Pendidikan Indonesia (UPI) in collaboration with Asosiasi Bimbingan dan Konseling Indonesia (ABKIN). The purpose of Journal of Counseling Profession is to publish work oriented toward professional skill and innovation in the practice of guidance and counseling.
JCP: Journal of Counseling Profession ensures integrity, autonomy and orginality of each published article with respect to the publication ethics and rectitude. The Benefits of publishing in JCP journal as compared to traditional subscription journals. The article can be read by a potentially much large audience compared, and open access journals are free to view, download and print.
JCP is an Open Access Journal. The authors who publish the manuscript in this journal agree to the following terms: 

JOMSIGN is licensed under a Creative Commons Attribution 4.0 International License. This permits anyone to copy, redistribute, remix, transmit and adapt the work provided the original work and source is appropriately cited.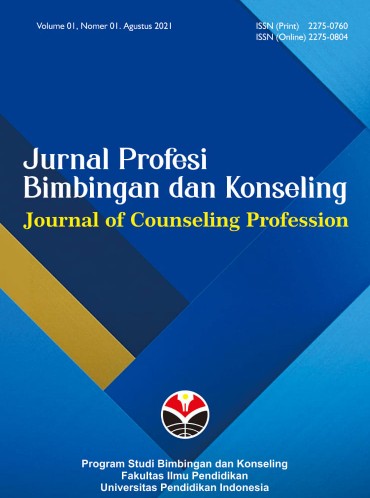 The following issue(s) will be shown here as soon as the reviewing process is completed. The first issue is expected to come out at the end of August, 2021.