ACCREDITED Sinta 3 by Ministry of Research and Technology/National Research and Innovation Agency)  No 148/M/KPT/2020, August 3, 2020. Certificate is available here
Image : Jurnal Riset Manajemen with registered number ISSN 2339-2878 (Print) and ISSN 2657-0688 (Online), is a peer-reviewed journal published two times a year (April and November) by Program Studi Manajemen, Fakultas Pendidikan Ekonomi dan Bisnis, Universitas Pendidikan Indonesia. IMAGE is intended to be the journal for publishing articles reporting the results of research on business. 
Image : Jurnal Riset Manajemen invites manuscripts in the various topics include Marketing Management, Human Resource Management, Financial Management, Operation Management, Strategic Management, Supply Chain Management, Leadership, Quality and Innovation Mangement, and Entrepreneurship. 
Image : Jurnal Riset Manajemen cooperation with Aliansi Program Studi Manajemen dan Bisnis Indonesia (APSMBI), Ikatan Sarjana Ekonomi Indonesia (ISEI) Kota Bandung
DOI Prefix 10.17509/image by Crossref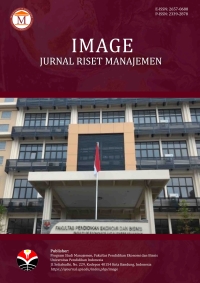 Announcements
No announcements have been published.
Vol 11, No 1 (2022): IMAGE : Jurnal Riset Manajemen, April 2022
Table of Contents
Articles
| | | |
| --- | --- | --- |
| | Tiara Fitri Rizkiyah, Sulaeman Rahman Nidar | 1-13 |
| | | |
| --- | --- | --- |
| | Wahyudiono Wahyudiono, R. Agus Baktiono, Putu Artaya | 14-25 |
| | | |
| --- | --- | --- |
| | Asti Nur Aryanti, Widyastuti Nurmalia Utami | 26-37 |
| | | |
| --- | --- | --- |
| | Vina Anggilia Puspita, Gunardi Gunardi | 38-53 |
| | | |
| --- | --- | --- |
| | Mediany Kriseka Putri, Yonatan Yonatan, Grisna Anggadwita, Ratih Hendayani | 54-68 |