TEGAR, Journal of Teaching Physical Education in Elementary School, (ISSN: e- 2614-5626; p-2614-5626 DOI: https://dx.doi.org/10.17509) is a peer-review journal, specializing in publishing:
Teaching and learning researches and conceptual review of the teaching innovation on models, approaches, strategies, and styles conducted in elementary schools.

Teaching basic fundamental movements, games, dances, and gymnastics, and gymnastics to improve physical literacy, physical fitness, and children's lives qualities.


Teaching health concepts, educating healthy behaviors, and managing school health programs.

 
TEGAR is a biannual journal issued in May and October.
The editorial board welcomes submissions of papers describing recent research such as theoretical articles, research articles, practice-oriented articles, and paper or book reviews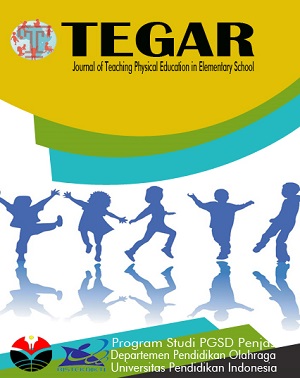 Announcements
Call for Paper Tegar Vol. 6 No.1 2022

Dear, all. 

I'd like to inform you that Tegar: Journal of Teaching Physical Education in Elementary School will be published in October 2022

Tegar: Journal of Teaching Physical Education in Elementary School journal is organized by the Lecturers of Physical Education in Elementary School Study program, FPOK-Indonesia University of Education, and Journal Developer Team in Bandung, West Java, Indonesia. 

Accordingly, I would like to invite you to submit your manuscripts related to physical educational studies, especially in elementary school. The manuscripts can be written in English as well as in Indonesian Languages. 

 

Please submit your manuscripts to this address:

*Online Submission: http://ejournal.upi.edu/index.php/tegar/about/submissions#onlineSubmissions

 

*Submission deadline:  25 September, 2022

*article template : http://bit.ly/2TQpMXN




Technical Contact:

Mesa Rahmi Stephani 

(087782931755)

Email: mesarahmistephani@upi.edu

 

I am looking forward to your favorable response. Thank you for your kind attention. 

Sincerely yours,

Dr. Agus Mahendra, M.A.
Editor-in-Chief of Tegar Journal

Office address (for corresponding):
Kampus FPOK-UPI, Jalan Dr. Setiabudhi No.229, Bandung, Jawa Barat, Indonesia.

Posted: 2022-06-30
Vol 6, No 1 (2022): The Role of Physical Education in Enhancing Quality of Life
Table of Contents
Articles