Jurnal Kepelatihan Olahraga (JKO) is a media for widespread the results of research, studies and ideas in the field of sports coaching. It is published by the Department of Sports Coaching Education, Indonesia University of Education. This Jurnal Kepelatihan Olahraga (JKO), firstly published offline/printed in 2009 and then registered nationally since 2012 with the ISSN number: 2086-339X. So far, the sports training journal has been published in 10 volumes with each volume consisting of two (2) series. This print journal is regularly published two (2) times in June and December. Along with the development of the times, there are changes in the management of journals, that is from offline/print management to online management systems published in March and September 2019.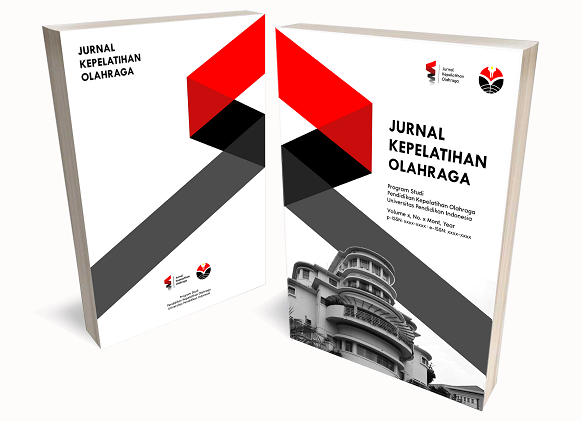 Announcements
Call of Paper for Volume 11 Number 2, 2019

Jurnal Kepelatihan Olahraga invites you to submit an article that will publish on September 2019
Posted: 2019-05-15
More...
Vol 11, No 1 (2019)
Table of Contents
Articles
| | | |
| --- | --- | --- |
| | Sopian Sopian, Ira Purnamasari | 1-11 |
| | | |
| --- | --- | --- |
| | Muhammad Fauzi, Dikdik Zafar Sidik | 12-20 |
| | | |
| --- | --- | --- |
| | Witri Fandayani, Sagitarius Sagitarius | 21-29 |
| | | |
| --- | --- | --- |
| | Bangkit Pramudya Putra, Muhamad Tafaqur | 30-35 |
| | | |
| --- | --- | --- |
| | Dzaki Riyadi, Hadi Sartono, Komarudin Komarudin | 43-50 |
| | | |
| --- | --- | --- |
| | Fajar Aditya Iskandar, Alen Rismayadi | 51-58 |
| | | |
| --- | --- | --- |
| | Ribut Wahidi, Yudi Nurcahya | 59-67 |
| | | |
| --- | --- | --- |
| | Mohamad Kurnia Jaya, Dede Rohmat | 68-76 |