EDULIB JOURNAL OF LIBRARY AND INFORMATION SCIENCE was founded in 2011 by the Program Library and Information Science, Department of Curriculum and Educational Technology, Faculty of Education, University of Indonesia. EduLib journal is peer reviewed journal which can be a forum for researchers, professors, students, and practical field of library, information and communication to publish his work widely.
p-ISSN : 2089-6549 | e-Online 2528-2168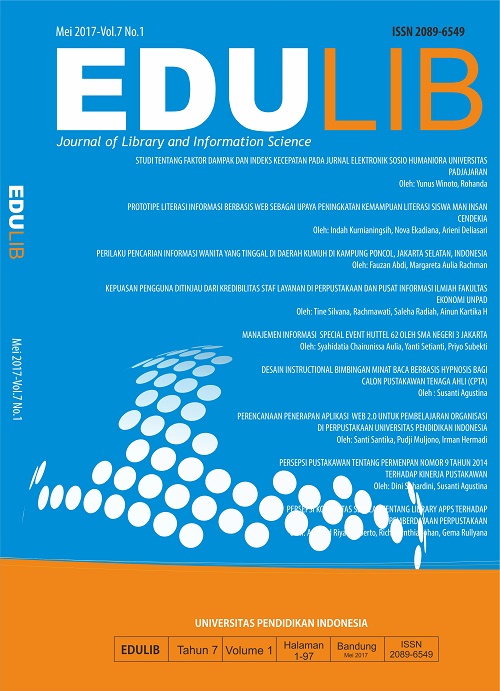 Edulib published two editions in one year ie May and November.
We accept the writing on the theme:
Information Literacy.
Excellent service in the library.
Libraries and community 2.0 era.
The school library as a vehicle for cultural heir and local knowledge.
Behavior-based pemustaka Information Search by Information and Communication Technology (ICT) in the Library.
Dissemination of Scientific Journals indexed in Scopus or ter-Impact Factor.
p-ISSN: 2089-6549 | 2528-2168 E-Online
EDULIB indexed in:
Contact
Program Studi Perpustakaan dan Ilmu Informasi
Departemen Kurikulum dan Teknologi Pendidikan
Fakultas Ilmu Pendidikan
Universitas Pendidikan Indonesia
Jl. Dr. Setiabudhi No. 229 Bandung 40154, Telp. 2013163 ext. 4311. Mobile : 081320207786, 08971685371, 087823541761
e-mail. jurnaledulib@upi.edu
Announcements
No announcements have been published.
Vol 7, No 2 (2017)
Table of Contents
Articles
Tine Silvana Rachmawati, Fitriawati -, Encang Saepudin

10.17509/edulib.v7i2.9488

Abstract views: 15

PDF downloads: 17
Rachmawati -, Pudji Muljono, Imas Sukaesih Sitanggang

10.17509/edulib.v7i2.9197

Abstract views: 84

PDF downloads: 38
Meydina Fauzia Ananda, Yooke Tjuparmah S. Komarudin, Susanti Agustina

10.17509/edulib.v7i2.9391

Abstract views: 39

PDF downloads: 13