The Indonesian Journal of Science and Technology (IJoST), is published by Universitas Pendidikan Indonesia, which is a dissemination medium for research result from scientists and engineers in many fileds of science and technology. IJoST is a biannual journal issued on April and October.
The editors welcome submissions of papers describing recent theoretical and experimental research related to: (1) Theoretical articles; (2) Empirical studies; (3) Practice-oriented papers; (4) Case studies; (5) Review of papers, books, and resources.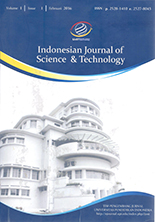 IJoST will be proposed for submitting the following indexing engine: SCOPUS, ProQuest, Crossref, International Scientific Indexing (ISI), Directory of Open Access Journal (DOAJ), Google Scholar and others international indexing.




Announcements
The Most Cited Papers

Photodecomposition Profile of Organic Material during the Partial Solar Eclipse of 9 March 2016 and Its Correlation with Organic Material Concentration and Photocatalyst Amount
ABD Nandiyanto, D Sofiani, N Permatasari, TN Sucahya, AS Wiryani, ...
Indonesian Journal of Science and Technology 1 (2), 132-155 6 2016

Review: Agricultural Wastes as a Source of Silica Material
N Permatasari, TN Sucahya, ABD Nandiyanto
Indonesian journal of science and technology 1 (1), 82-106 5 2016

Early Phase Process Evaluation: Industrial Practices
ZA Putra
Indonesian Journal of Science and Technology 1 (2), 238-248 2 2016

Posted: 2017-05-18

Coming Soon

Print Version
Posted: 2016-11-24
Vol 2, No 1 (2017): IJoST: Volume 2, Issue 1, 2017
Table of Contents
Articles
| | | |
| --- | --- | --- |
| | Tsubasa Shibaguchi, Rie Ishizawa, Atsushi Tsuji, Yuya Yamazaki, Keizo Matsui, Kazumi Masuda | 1-7 |
| | | |
| --- | --- | --- |
| | Caesar Firdaus, Wahyudin Wahyudin, Eddy Prasetyo Nugroho | 8-25 |
| | | |
| --- | --- | --- |
| | Kuldeep Pareta, Upasana Pareta | 26-49 |
| | | |
| --- | --- | --- |
| | Muhammad Maqbool Sadiq Awan, Parviz Soroushian, Arshad Ali, Muhammad Yousaf Saqid Awan | 57-75 |
| | | |
| --- | --- | --- |
| | Hamidreza Salmani Mojaveri, Vahid Moghimi | 76-80 |
| | | |
| --- | --- | --- |
| | Deva Aziz Nanda Martin, Ali Rahmat | 81-86 |
| | | |
| --- | --- | --- |
| | Muhammad Roil Bilad | 97-123 |