Jurnal Administrasi Pendidikan (JAP) (ISSN: e.2580-1007 p.1412-8152) is published on 2003 by Educational Administration Postgraduate Program, Universitas Pendidikan Indonesia. JAP is a journal that focuses on publishing qualitative and quantitative research articles in the scope of Educational Administration including Leadership, Planning, Human Resources, Finance, Curriculum, Facilities and Infrastructure, Public Relations, Student Affairs, Learning and Management Education, and Organization. It is published two times per year in April and October. Each issue consists of 9-16 articles/reviews.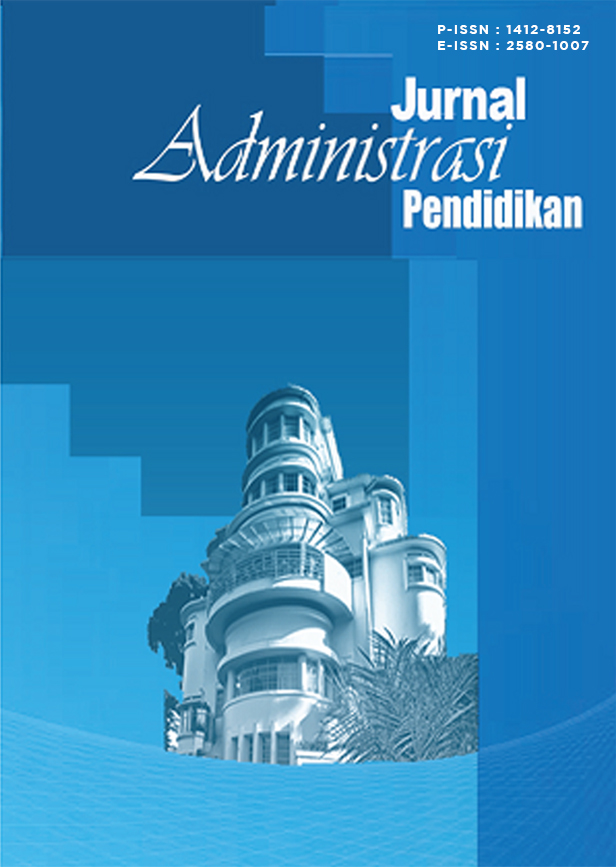 Announcements
Form Kesediaan Menjadi Reviewer atau Editor

kesediaan sebagai Reviwer dan Editor JAP
Posted: 2020-03-24
More...
Vol 20, No 1 (2023): APRIL 2023
Table of Contents
Articles
| | | |
| --- | --- | --- |
| | Risa Saparina, Abdul Azis Wahab, Aceng Muhtaram Mirfani | 1-20 |
| | | |
| --- | --- | --- |
| | Ilham Fahmi, Mohammad Fakry Gaffar, Johar Permana, Endang Herawan | 21-34 |
| | | |
| --- | --- | --- |
| | Junaidin Basri, Udin Syaefudin Saud, Asep Suryana, Eka Prihatin | 35-50 |
| | | |
| --- | --- | --- |
| | Kholifatul Husna Asri, Aan Komariah, Danny Meirawan, Dedy Achmad Kurniady | 51-58 |
| | | |
| --- | --- | --- |
| | Zahrawanni Niza Gunarko Putri, Diding Nurdin, S Suryadi | 59-66 |
| | | |
| --- | --- | --- |
| | Jamaludin Jamaludin, Shofia Nurun Alanur S., Hasdin Hasdin | 91-98 |
| | | |
| --- | --- | --- |
| | I Isrokatun, Cucun Sunaengsih, Maulana Maulana, Aah Ahmad Syahid, Dety Amelia Karlina | 99-110 |
| | | |
| --- | --- | --- |
| | Renatalia Triningsih, Herlina Usman, Anggraeni Wulandari Pramono | 111-120 |
| | | |
| --- | --- | --- |
| | Herdina Yulia Agustin, Taufani C Kurniatun | 129-138 |