Image : Jurnal Riset Manajemen with registered number ISSN 2339-2878 (Print) and ISSN 2657-0688 (Online), is a peer-reviewed journal published two times a year (April and November) by Program Studi Manajemen Fakultas Pendidikan Ekonomi dan Bisnis Universitas Pendidikan Indonesia. IMAGE is intended to be the journal for publishing articles reporting the results of research on business. 
Image : Jurnal Riset Manajemen invites manuscripts in the various topics include Organizational Behavior, Leadership, Human Resources Management, Innovation, IT, Operations and Supply Chain Management, Marketing Management, Financial Management, Accounting, Strategic Management, Entrepreneurship
Image : Jurnal Riset Manajemen cooperation with Ikatan Sarjana Ekonomi Indonesia (ISEI) Jawa Barat, Forum Manajemen Indonesia (FMI)
DOI Prefix 10.17509/image by Crossref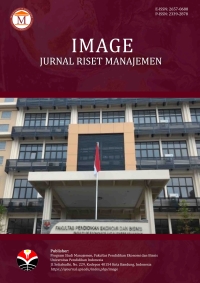 Announcements
No announcements have been published.
Vol 8, No 2 (2019): IMAGE : Jurnal Riset Manajemen. November 2019
Table of Contents
Articles
| | | |
| --- | --- | --- |
| | Adik Duwi Rahayu, Aditya Putra, Chiata Oktaverina, Regina Aulia Ningtyas | 45-59 |
| | | |
| --- | --- | --- |
| | Resa Cantika, Ryan Suryadi, Ida Farida Adi Prawira, Arim Nasim | 60-67 |
| | | |
| --- | --- | --- |
| | Fauzan Akbar Widiansyah | 68-76 |
| | | |
| --- | --- | --- |
| | Vanessa Gaffar, Heny Hendrayati | 77-86 |
| | | |
| --- | --- | --- |
| | Supri Yatini, R. Nelly Nur Apandi | 87-96 |