Nationally Accredited based on the Decree of the Minister of Research, Technology and Higher Education, Number 158/E/KPT/2021 - 27 December 2021
Jurnal Ilmu Manajemen dan Bisnis with registered number ISSN 2337-411X (Print) and ISSN 2503-3522 (Online), is a peer-reviewed journal published two times a year (March and September) by Master in Management Program Sekolah Pascasarjana Universitas Pendidikan Indonesia. Jurnal Ilmu Manajemen dan Bisnis is intended to be the journal for publishing articles reporting the results of research on business. 
Jurnal Ilmu Manajemen dan Bisnis invites manuscripts in the various topics include Organizational Behavior, Leadership, Human Resources Management, Innovation, IT, Operations and Supply Chain Management, Marketing Management, Financial Management, Accounting, Strategic Management, Entrepreneurship, and Green Business.
Jurnal Ilmu Manajemen dan Bisnis cooperation with Ikatan Sarjana Ekonomi Indonesia (ISEI) Jawa Barat, Forum Manajemen Indonesia (FMI), Indonesia Marketing Associations, Asosiasi Pengelola Magister Manajemen Indonesia (APMMI)
DOI Prefix 10.17509/jimb by Crossref 
Terakreditasi Kemdikbudristek Peringkat 4 - SK Dirjen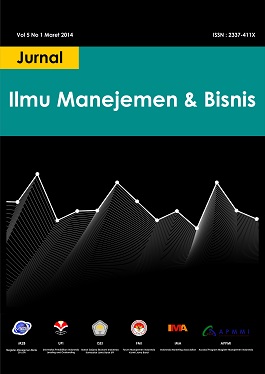 Announcements
CALL FOR PAPER JURNAL ILMU MANAJEMEN DAN BISNIS VOLUME 14 NO 1 MARCH 2023

Dear Authors,

We invite all of you to publish your article on the theme of: "Organizational Behavior, Leadership, Human Resources Management, Innovation, IT in Business, Operations and Supply Chain Management, Marketing Management, Financial Management, Accounting, Strategic Management, Entrepreneurship, and Green Business." for Volume 13 No 1, March 2022. Here are the important dates:

Full-length manuscripts: 01 October - 10 November 2022 
The decision on peer review:  1 - 10 December 2022 
Revision of manuscripts: 11 December 2022 - January 2023
Final copy: 10 February 2023 
Expected publication date: 30 March 2023

Detail information can be seen in Call papers announcement.
Thank you,
Regards,
Editor

Posted: 2021-05-01
More...

CALL FOR PAPER JURNAL ILMU MANAJEMEN DAN BISNIS VOLUME 13 NO 2 SEPTEMBER 2022

Dear Authors,

We invite all of you to publish your article on the theme of: "Organizational Behavior, Leadership, Human Resources Management, Innovation, IT in Business, Operations and Supply Chain Management, Marketing Management, Financial Management, Accounting, Strategic Management, Entrepreneurship, and Green Business." for Volume 13 No 2, September 2022. Here are the important dates:

Full-length manuscripts: 01 April -  10 June 2022 
The decision on peer review:  10 - 30 June 2022
Revision of manuscripts: 11 July - 30 August 2022
Final copy: 10 September 2022 
Expected publication date: 30 September 2022

Detail information can be seen in Call papers announcement.
Thank you,
Regards,
Editor

Posted: 2021-03-01
Vol 13, No 1 (2022): Jurnal Ilmu Manajemen dan Bisnis. Maret 2022
Table of Contents
Articles
| | | |
| --- | --- | --- |
| | Lusianus Heronimus Sinyo Kelen | 1-10 |
| | | |
| --- | --- | --- |
| | Ghea Dwi Rahmadiane, Erni Unggul Sedya Utami, Hesti Widianti | 11-16 |
| | | |
| --- | --- | --- |
| | Widi Prayoga, Heny Hendrayati, Lutfi Nur, Arief Budiman | 17-30 |
| | | |
| --- | --- | --- |
| | Arief Budiman, Azizah Fauziyah, Nizza Nadya Rachmani | 31-36 |
| | | |
| --- | --- | --- |
| | Nara Simba, Lukman M Baga, Dwi Rachmina | 57-64 |
| | | |
| --- | --- | --- |
| | Ebram Agustian, Sahat Saragi, Nurita Andayani | 65-72 |
| | | |
| --- | --- | --- |
| | Appin Purisky Redaputri, Thomas Nugraha Sanjaya | 73-80 |
| | | |
| --- | --- | --- |
| | Boby Hera Sagita, Nugraha Nugraha, Disman Disman, Ika Putera Waspada | 81-90 |