Tekmulogi: Jurnal Pengabdian Masyarakat (ISSN : e. 2777-0990, p. 2777-1199) merupakan jurnal nasional yang didedikasikan untuk publikasi hasil kegiatan pengabdian kepada masyarakat yang berkualitas dalam bidang Tekonologi Pendidikan, Multimedia, Seni dan Desain, Teknik Komputer, Rekayasa Prangkat Lunak, Industri Kreatif dan Kewirausahaan 
Tekmulogi: Jurnal Pengabdian Masyarakat terbit secara berkala dua kali setahun pada bulan Mei dan November oleh Universitas Pendidikan Indonesia, Kampus Cibiru, Bandung, Indonesia. Semua artikel yang dipublikasikan di Jurnal Pengabdian Masyarakat (Tekmulogi) dapat diakses secara bebas online tanpa berlangganan apapun.
Submit your manuscripts today! through our online system. Download the article template for writing format and style in here.
Registration and login are required to submit items online and to check the status of current submissions.
Already have a Username/Password for TEKMULOGI: Jurnal Pengabdian Masyarakat?
Need a Username/Password?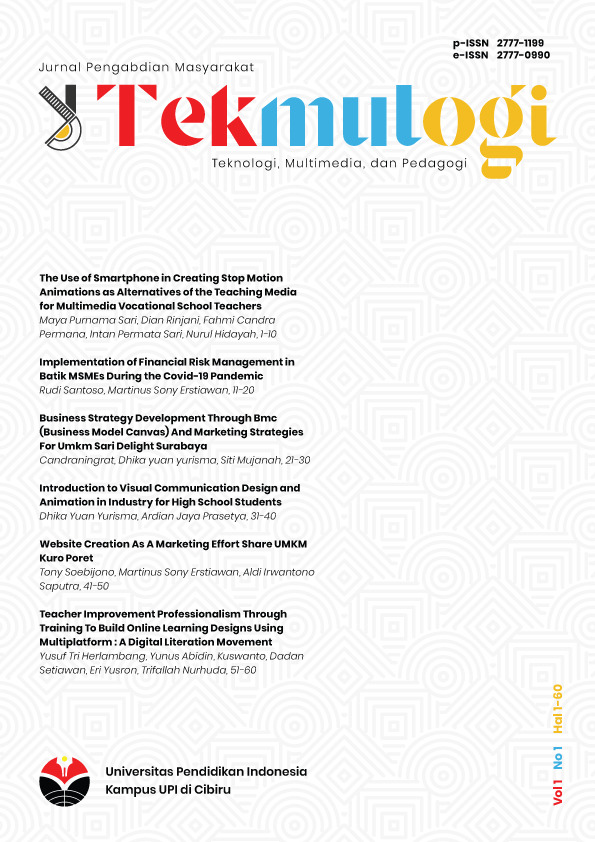 Announcements
No announcements have been published.
Vol 3, No 2 (2023): November 2023
Table of Contents
Articles
| | | |
| --- | --- | --- |
| | Nur Dyah Bela Putri, Jariyah Jariyah | 67 - 76 |
| | | |
| --- | --- | --- |
| | Ichwanul Muslim Karo Karo, Y. M Rangkuti, Kurnia Mildawati Gea, Ahmad Landong | 77 - 86 |
| | | |
| --- | --- | --- |
| | Yoppy Mirza Maulana | 87 - 98 |
| | | |
| --- | --- | --- |
| | Muhammad AL-Mighwar, Jaisy Muhammad Isfahani, Khalimatusyaadah Khalimatusyaadah, Wafa Azmii Aqillah | 99 - 108 |
| | | |
| --- | --- | --- |
| | Rita Mariyana, Badru Zaman, Rudiyanto Rudiyanto | 121 - 130 |
| | | |
| --- | --- | --- |
| | Gloria Era Christianto Putri, Candraningrat Candraningrat | 109 - 120 |