TEKMULOGI: Jurnal Pengabdian Masyarakat merupakan jurnal peer-review yang didedikasikan untuk publikasi hasil penelitian yang berkualitas dalam bidang Pendidikan, Kesenian Desain (Art), Teknologi, Enterpreneur, Sosial, Robotik dan Industri Kreatif, namum tidak terbatas secara implisit.
TEKMULOGI: Jurnal Pengabdian Masyarakat menerbitkan paper secara berkala dua kali setahun oleh Universitas Pendidikan Indonesia, Kampus Cibiru, Bandung, Indonesia. Semua artikel yang dipublikasikan di jurnal TEKMULOGI dapat diakses secara bebas online tanpa berlangganan apapun.
Submit your manuscripts today! through our online system. Download the article template for writing format and style in here.
Registration and login are required to submit items online and to check the status of current submissions.
Already have a Username/Password for TEKMULOGI: Jurnal Pengabdian Masyarakat?
Need a Username/Password?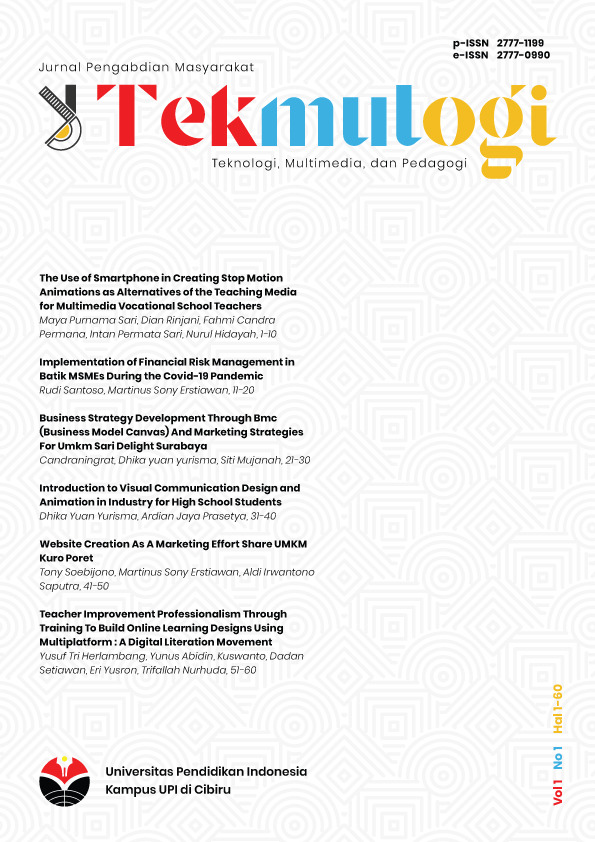 Announcements
No announcements have been published.
Vol 1, No 1 (2021): Mei 2021
Table of Contents
Articles
| | | |
| --- | --- | --- |
| | Rudi Santoso, Martinus Sony Erstiawan | 1 - 7 |
| | | |
| --- | --- | --- |
| | Tony Soebijono, Martinus Sony Erstiawan, Aldi Irwantono Saputra | 8 - 15 |
| | | |
| --- | --- | --- |
| | Candraningrat Candraningrat, Dhika Yuan Yurisma, Siti Mujanah | 16 - 24 |
| | | |
| --- | --- | --- |
| | Maya Purnama Sari, Dian Rinjani, Fahmi Candra Permana, Intan Permata Sari, Nurul Hidayah | 25 - 33 |
| | | |
| --- | --- | --- |
| | Dhika Yuan Yurisma, Ardian Jaya Prasetya | 34 - 40 |
| | | |
| --- | --- | --- |
| | Fadliyani Nawir, Aminuddin Hamdat | 41 - 46 |