The Journal Gastronomy Tourism (eISSN: 2716-3970 | pISSN: 2774-6186) is a scientific journal accommodates the development of science, and the gastronomic tourism business that includes multidisciplinary science.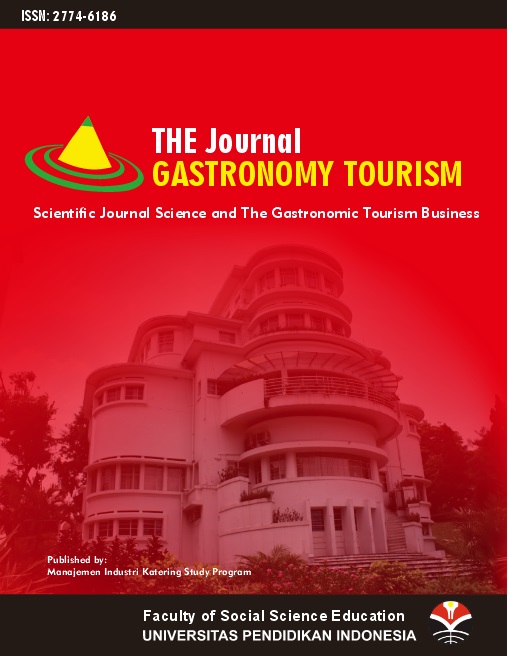 Journal Scope:
Gastronomy tourism
Food & Beverage Management
Food Heritage and Culture
Food Literature
Hospitality
Digitalization & Information System of Food
Food Nutrition and Sustainabilty
Halal Food
Food innovation and Technology
Gastronomy Tourism Destination Management
Food and landscape
Food Science
Gastronomy and Education
Published articles can be in the form of research articles, conceptual articles, field study reports, implementation practices, and national or international policies. This journal will be published twice a year (in June and December) in electronic form, and in limited print. The electronic edition of this journal is Open Access which can be downloaded free of charge to encourage the development of knowledge. GasTur will be managed professionally and follows the management standards of the electronic journal Directorate of Higher Education (DIKTI).
Abstracting and Indexing: Google Scholar

Announcements
Invitation

Dear colleague,

We intend to invite you  to become a reviewer of the Journal of Gastronomy Tourism (GasTur) which is managed by Catering Industry Management of the Faculty of Social Sciences and Education, Universitas Pendidikan Indonesia, Indonesia.

Posted: 2020-11-25
More...
Vol 10, No 1 (2023)
Table of Contents
Articles
| | | |
| --- | --- | --- |
| | Adestya Ayu Armielia, Oqke Prawira, Savira Rizky Pradiati | 1-14 |
| | | |
| --- | --- | --- |
| | Ridwan Iskandar, Cytra Amalia Hadian, Risya Ladiva Bridha | 15-24 |
| | | |
| --- | --- | --- |
| | Ni Putu Eka Trisdayanti, I Made Purwa Dana Atmaja, Made Hendrayana | 25-34 |
| | | |
| --- | --- | --- |
| | Idham Sakti Wibawa, Ilham Fajri, Kelly Tanuhadi | 35-40 |
| | | |
| --- | --- | --- |
| | Dewi Fitriani, Ita Karnita, Annisa Metrasari | 41-52 |
| | | |
| --- | --- | --- |
| | Nadine Diaz Salsabila, Woro Priatini, Purna Hindayani | 53-62 |
| | | |
| --- | --- | --- |
| | Marsindi Marsindi, Dewi Turgarini, Heni Pridia Rukmini Sari | 63-73 |