MIMBAR PENDIDIKAN: Jurnal Indonesia untuk Kajian Pendidikan (Indonesian Journal for Educational Studies)
This journal was first published on March 11, 2016, and it is issued every March and September. MIMBAR PENDIDIKAN  is a new version of the old journal with the similar name that was published from 1995 to 2005. This journal is dedicated not only for Indonesian scholars who are concerned with educational studies, but also for scholars of Southeast Asian countries and around the world who care and want to share thoughts and ideas related to educational studies in general. 
MIMBAR PENDIDIKAN journal is organized by the Lecturers of UPI (Universitas Pendidikan Indonesia's Journal Developer Team); and is published by UPI Press,Bandung, West Java, Indonesia. The articles published in MIMBAR PENDIDIKAN can be in English, Indonesian or Malay language.
MIMBAR PENDIDIKAN journal is devoted, but not limited to, primary education, secondary education, higher education, teacher education, special education, adult education, non-formal education, and any new development and advancement in the field of education. The scope of our journal includes: (1) Language and literature education; (2) Social sciences and humanities education; (3) Sports and health education; (4) Economy and business education; (5) Math and natural science education; (6) Vocational and engineering education; and (7) Visual arts, dance, music, and design education.
Conventional e-mail address for sending the articles is: suciandi@upi.edu   
ISSN:
KATA PENGANTAR untuk
MIMBAR PENDIDIKAN: Jurnal Indonesia untuk Kajian Pendidikan,
Volume 4(1), Maret 2019.

Prof. Dr. H.R. Asep Kadarohman
Pelindung Jurnal MIMBAR PENDIDIKAN dan Rektor UPI di Bandung.  
Menyambut penerbitan jurnal MIMBAR PENDIDIKAN, edisi Maret 2019 ini, saya ingin memberikan refleksi, semacam renungan tentang tantangan dunia pendidikan, baik dahulu, kini, maupun nanti, khususnya berkenaan dengan tugas dan peranan UPI (Universitas Pendidikan Indonesia) di Bandung, Jawa Barat, Indonesia. Dalam sebuah wawancara dengan surat kabar "Tribun Jabar", pada tanggal 9 Oktober 2018, dalam rangka Acara Wisuda dan menyambut Diesnatalis UPI, saya menegaskan, antara lain, bahwa berkaitan dengan menghadapi Revolusi Industri 4.0, lulusan UPI harus memiliki "soft skill", fleksibilitas, tangguh, kritis, dan kreatif.
Selain menguasai bidang keilmuan yang dipelajari selama studi, lulusan UPI juga harus mampu memiliki keahlian kerja, sesuai dengan bidang kepiawaian, beradaptasi dengan perubahan, mampu berpikir secara dinamis, serta ketangguhan dalam berusaha, yang merupakan tantangan bagi lembaga penghasil SDM (Sumber Daya Manusia), khususnya Guru dan Tenaga Kependidikan lainnya. UPI sebagai sebuah PT (Perguruan Tinggi), yang "core business"-nya dalam bidang Pendidikan, harus mampu beradaptasi dengan perubahan dan menyambut fenomena Revolusi Industri 4.0 tersebut. UPI sendiri terus mengembangkan berbagai program dan kegiatan terkait dengan kehadiran Revolusi Industri 4.0.
Sejumlah usaha dan program telah, sedang, dan akan terus dilakukan oleh UPI, antara lain, pengembangan sistem pembelajaran yang inovatif; penyesuaian kurikulum pembelajaran dengan pendekatan "human digital" dan keahlian berbasis digital; peningkatan kemampuan mahasiswa dalam menguasai data IT (Informasi Teknologi), OT (Operasional Teknologi), IoT (Internet of Things), dan "big data"; pengintegrasian objek fisik, digital, dan manusia secara komprehensif; serta peningkatan kualitas lulusan yang menguasai aspek literasi data, literasi teknologi, dan literasi manusia.
UPI juga terus berbenah dengan mengembangkan transdisiplin ilmu, menambah beberapa program studi yang dibutuhkan oleh pasar, serta mengembangkan program "Cyber University". Perkembangan dari sisi lain untuk kemajuan UPI adalah juga mempersiapkan SDM, khususnya Dosen yang responsif, adaptif, dan progresif, yang ditunjang oleh kelengkapan sarana dan prasarana yang memadai, termasuk pengembangan infrastruktur untuk kepentingan pendidikan, riset dan inovasi, serta pengabdian kepada masyarakat.
Di atas semua itu, saya berharap agar lulusan UPI mampu mengembangkan potensi yang dimiliki, sehingga dapat menangkap berbagai peluang yang ada. Saya juga berharap agar mereka itu kreatif, dapat mengembangkan diri, bukan hanya untuk bekerja tetapi juga menciptakan lapangan kerja. Termasuk, dalam konteks ini, terus melakukan riset dan inovasi, serta mengimplementasikannya, untuk kemajuan masyarakat, bangsa, dan negara Indonesia.
Terkait dengan riset dan inovasi, serta proses diseminasinya kepada publik, UPI telah memiliki banyak jurnal ilmiah yang bereputasi, baik nasional dan regional Asia Tenggara, maupun internasional yang terindeks oleh SCOPUS, misalnya. Salah satu jurnal ilmiah yang bereputasi secara nasional dan regional Asia Tenggara, melihat artikel-artikel yang disajikan dari berbagai lembaga dan negara, adalah jurnal MIMBAR PENDIDIKAN ini.
Jurnal MIMBAR PENDIDIKAN, edisi Maret 2019, kali ini masih tetap konsen dan hirau dengan kajian-kajian dalam bidang pendidikan secara umum. Seperti biasa, para penulis tidak hanya datang dari lembaga pendidikan tinggi di Indonesia, tetapi juga dari luar negara Indonesia, yakni Filipina. Setiap edisi, jurnal MIMBAR PENDIDIKAN hanya mampu menyajikan 5 artikel terbaik dan layak terbit, setelah melalui proses reviu dan editing ulang yang komprehensif dan profesional. Seperti biasa juga, tidak semua artikel ditulis dalam BINA (Bahasa Indonesia), tetapi juga dalam BING (Bahasa Inggris) dan bahkan dalam BM (Bahasa Melayu). Hal ini sejalan dengan visi dan misi dari para pengelola jurnal MIMBAR PENDIDIKAN, yakni memberi peluang kepada para akademisi di kawasan Asia Tenggara untuk "sharing and caring" dalam penelitian, kajian, dan implementasi bidang pendidikan, sesuai dengan konteks negara-bangsanya masing-masing.
Sebagaimana juga sering saya nyatakan bahwa hidup di era globalisasi dan kemajuan sains-teknologi informasi sekarang ini diperlukan kompetisi dan kolaborasi sekaligus. Kemajuan sebuah negara-bangsa, termasuk lembaga pendidikan tinggi, hanya bisa dilakukan melalui dua cara tersebut. Dengan kata lain, "kompetisi dan kolaborasi" dengan negara dan lembaga lain adalah mekanisme dan cara untuk mencapai kemajuan, sebagaimana yang telah dicita-citakan oleh para "the founding fathers" negara dan lembaga kita. Kemajuan sebuah negara dan lembaga tidak boleh menurut ukuran kemajuan diri sendiri, tapi harus ada pembanding dan tolok ukur dengan negara dan lembaga lain. UPI dikatakan sebagai sebuah PT yang "a leading and outstanding", misalnya, bila sudah dibandingkan dengan lembaga tinggi pendidikan dari negara-negara lain, minimal di tingkat kawasan Asia Tenggara. Sebuah PT yang mengklaim telah "maju" tapi menurut ukurannya sendiri dan tidak ada pembanding dengan kemajuan dari pihak lain, meminjam istilah Bahasa Sunda, sama dengan "goong nakol maneh" (gong yang memukul dirinya sendiri hingga berbunyi).
Dalam konteks "benchmark" ini juga, jurnal MIMBAR PENDIDIKAN selalu berusaha menerbitkan artikel-artikel dalam berbagai bahasa serta dari berbagai lembaga dan negara, dengan maksud untuk membandingkan seberapa jauh lembaga-lembaga dan negara-negara lain sudah melakukan kajian, penelitian, pemikiran, kebijakan, dan implementasinya dalam bidang pendidikan, agar pihak UPI sebagai LPTK (Lembaga Pendidikan Tenaga Kependidikan) di Indonesia tidak ketinggalan dalam mengarungi lautan dan zaman "kemajuan" di era globalisasi dan sains teknologi informasi ini.
 Selamat membaca artikel-artikel dalam jurnal MIMBAR PENDIDIKAN, edisi Maret 2019. Semoga ada manfaatnya. 
Bandung, Indonesia: 30 Maret 2019.
Journal Cover, Issue of September 2018: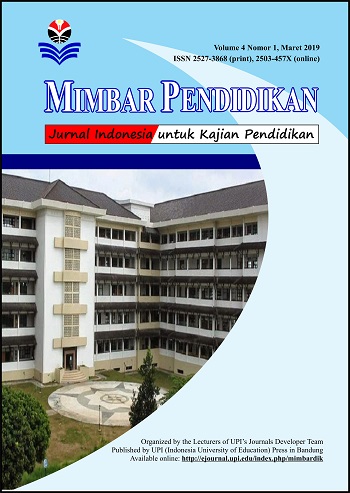 Organized and Published by: 

The Lecturers of UPI (Indonesia University of Education)'s Journals Developer Team; and UPI Press in Bandung, West Java, Indonesia.
Full address (for correspondence): 
Room of Timbang Jurnal UPI, UC (University Center) Building, 5th Floor, Campus of UPI, Jalan Dr. Setiabudhi No.229 Bandung 40154, West Java, Indonesia.   
Announcements
No announcements have been published.
Vol 4, No 1 (2019)
Table of Contents
Articles
I Made Yuda Suryawan, I Wayan Santyasa, I Gede Aris Gunadi

10.17509/mimbardik.v4i1.16969

Abstract views: 314

PDF downloads: 398

35-54