Nationally Accredited based on the Decree of the Minister of Research Technology/BRIN, Number B/4130/E5/E5.2.1/2019 - 31 December 2019
Jurnal Pendidikan Manajemen Perkantoran (JPManper) is published online (e-ISSN 2656-4734/ p-ISSN 2686-5491) by the Office Management Education Study Program, the Faculty of Economics and Business Education, Universitas Pendidikan Indonesia. This journal publishes research results on topics related to the teaching and learning of Office Management Education and other relevant fields of study, especially those carried out in the contexts of Vocational High Schools, higher education institutions, and workplaces. This journal invites the academics, researchers, as well as practitioners in the specified fields of expertise to share their works, especially those related to the teaching and learning of office management, archives management, quality management systems, office communications, human resources management, information systems management, and education organizations' behavior. Using the Indonesian language as its main language for its publications, the abstracts are provided in two languages, namely Indonesian and English.
DOI Prefix 10.17509/jpm by Crossref
Terakreditasi Kemenritek/BRIN - SINTA 4 -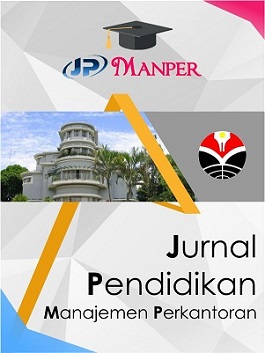 Announcements
No announcements have been published.
Vol 5, No 2 (2020): Juli 2020
Table of Contents
Articles
| | | |
| --- | --- | --- |
| | Muhammad Rezza Nur Fathoni, A. Sobandi | 129-139 |
| | | |
| --- | --- | --- |
| | Elis Nurhayati, Endang Supardi | 140-153 |
| | | |
| --- | --- | --- |
| | Iklima Nur Aziz R, Rini Intansari Meilani | 154-168 |
| | | |
| --- | --- | --- |
| | Fafika Himmatul Aula, Jaka Nugraha | 169-185 |
| | | |
| --- | --- | --- |
| | Seni Ida Pazriah, Adman Adman | 186-201 |
| | | |
| --- | --- | --- |
| | Hanif Nur Hidayah, Budi Santoso | 202-213 |
| | | |
| --- | --- | --- |
| | Larasati Larasati, Choirul Nikmah | 214-233 |
| | | |
| --- | --- | --- |
| | Novi Cahyani, Hendri Winata | 234-249 |
| | | |
| --- | --- | --- |
| | Dea Nur'Aini, Choirul Nikmah | 250-266 |
| | | |
| --- | --- | --- |
| | Shella Siti Nihaya, Tjutju Yuniarsih | 267-280 |
Front Matter [Cover Depan]
| | | |
| --- | --- | --- |
| | Front Matter Vol 5 No 2 Juli 2020 | |
Back Matter [Cover Belakang]