Welcome to the International Journal of Education (IJE) website. IJE (e-ISSN: 2442-4730 and p-ISSN: 1978-1342) is the first open access and double-blind peer-reviewed international journal managed by Universitas Pendidikan Indonesia, which exclusively focuses on education. This first international journal is a part of the University's strong commitment to education, which is expected to be the medium for the exchange of ideas, knowledge, information, and technology among experts and practitioners of education.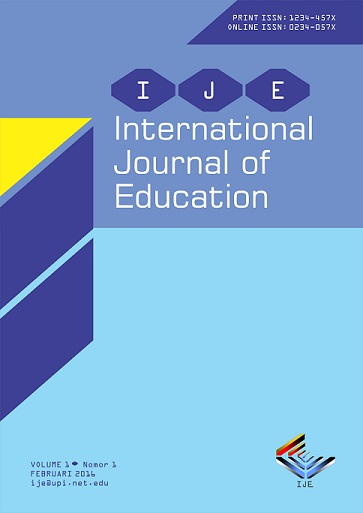 International Journal of Education aims to facilitate and promote the inquiry into and dissemination of research results on primary education, secondary education, higher education, teacher education, special education, adult education, non-formal education, and any new development and advancement in the field of education.
The scope of our journal includes:
Language and literature education
Social science, humanities, and education
Sports and health education
Economics and business education
Math and natural science education
Vocational and engineering education
Visual arts, dance, music, and design education
ISSN
Announcements
Indexing in DOAJ

IJE is now indexed by DOAJ
Posted: 2017-08-19
More...
Vol 16, No 2 (2023): Volume 16, Issue 2
Table of Contents
Articles
| | | |
| --- | --- | --- |
| | Imam Kusmaryono, Dyana Wijayanti | 79-88 |
| | | |
| --- | --- | --- |
| | Alfredo Padios, Sarah Pascua, Antriman Orleans | 89-100 |
| | | |
| --- | --- | --- |
| | Jomar Cobacha Cabuquin | 103-116 |
| | | |
| --- | --- | --- |
| | Eka Putri Azrai, Daniar Setyo Rini, Mathias Bagas Kurnianto, Johsamer Ampang | 117-130 |
| | | |
| --- | --- | --- |
| | Arismunandar Arismunandar, Andi Wahed, Ervianti Ervianti, Nurhikmah H | 131-142 |
| | | |
| --- | --- | --- |
| | Reinhard Selowa, Zwelithini Bongani Dhlamini | 143-152 |
| | | |
| --- | --- | --- |
| | Yulianeta Yulianeta | 153-164 |
| | | |
| --- | --- | --- |
| | Hernawan Hernawan, Dadang Anshari, Syihabuddin Syihabuddin, Yeti Mulyati | 165-176 |