Welcome to the International Journal of Education (IJE) website. IJE (e-ISSN: 2442-4730 and p-ISSN: 1978-1342) is the first open access and double-blind peer-reviewed international journal managed by Universitas Pendidikan Indonesia, which exclusively focuses on education. This first international journal is a part of the University's strong commitment to education, which is expected to be the medium for the exchange of ideas, knowledge, information, and technology among experts and practitioners of education.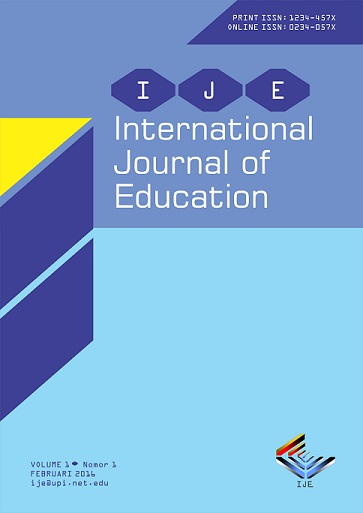 International Journal of Education aims to facilitate and promote the inquiry into and dissemination of research results on primary education, secondary education, higher education, teacher education, special education, adult education, non-formal education, and any new development and advancement in the field of education.
The scope of our journal includes:
Language and literature education
Social science education
Sports and health education
Economics and business education
Math and natural science education
Vocational and engineering education
Visual arts, dance, music, and design education
ISSN
Announcements
Call for Reviewers

The International Journal of Education Universitas Pendidikan Indonesia cordially invites the best scholars in the field of education and educational sciences to be part of the reviewer team. If you are willing and able to be a reviewer for our journal, kindly apply for the position through the following form to record your consent, expertise, and other relevant background information.

https://forms.gle/Jbem2KU3RoYgUvrz6

We will use the information to determine whether your application is accepted. The acceptance notification will be sent via email.

We do appreciate your willingness to be part of the reviewer team.

Best regards,

IJE Editorial Team

Posted: 2023-01-10

Update on manuscript submission

Currently, International Journal of Education is receiving a quite massive volume of manuscript submissions. The editorial team is doing their best to do initial screening. Kindly keep checking your email for any notifications regarding your submission. Thank you very much for your attention.

Best regards,

IJE Editorial Team

Posted: 2022-07-14

Indexing in DOAJ

IJE is now indexed by DOAJ
Posted: 2017-08-19
More...
Vol 15, No 2 (2022): Volume 15, Issue 2
Table of Contents
Articles
| | | |
| --- | --- | --- |
| | George M. Jacobs, Adelina Asmawi, Willy A. Renandya | 69-77 |
| | | |
| --- | --- | --- |
| | Primardiana Hermilia Wijayati, Dewi Kartika Ardiyani, Edy Hidayat | 78-84 |
| | | |
| --- | --- | --- |
| | Dian Ekawati, Ika Lestari Damayanti, Nenden Sri Lengkanawati | 85-94 |
| | | |
| --- | --- | --- |
| | Wandhansari Sekar Jatiningrum, Sri Nastiti Andayani Sesanti Retno Utami, Dhia Zalfa, Muhammad Syafril, Nur Wachid | 103-112 |