TARBAWY: Indonesian Journal of Islamic Education. This journal is an Indonesian Islamic education journal. It focuses on Islamic education. It is expected to be the medium for the exchange of ideas, knowledge, information, and technology among experts and practitioners of Islamic education.
TARBAWY is a biannual journal, issued in May and November. The editors welcome submissions of papers describing recent theoretical and experimental research related to theoretical articles, empirical studies, practice-oriented papers, and case studies in Islamic Education.
This journal is an open access and peer-reviewed journal, indexed in Google Scholar, Portal Garuda, Moraref, and Crossref. All the articles published in this journal have a unique DOI number with a prefix 10.17509.
ISSN Print    : 2580-6181
ISSN Online  : 2599-2481
Organized and Published by:
Full address (for corresponding):
Kantor Jurnal TARBAWY, Gedung Nu'man Somantri (FPIPS), Lantai 3 R. 314, Kampus UPI, Jalan Dr. Setiabudhi No. 229 Bandung 40154, Jawa Barat, Indonesia. Website: https://ejournal.upi.edu/index.php/tarbawy/index.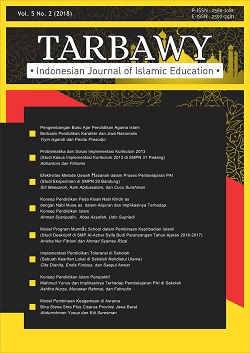 Announcements
Next Publication

The next publication is on May 5, 2020. Submission Deadline: March15, 2020
Posted: 2019-12-01
More...
Vol 6, No 2 (2019): November 2019
Table of Contents
Articles
| | | |
| --- | --- | --- |
| | Mokh Iman Firmansyah, Yusuf Ali Tantowi, Gina Ratnanisa Fawziah | 104-113 |
| | | |
| --- | --- | --- |
| | Muhamad Parhan, Bambang Sutedja | 114-126 |
| | | |
| --- | --- | --- |
| | Alfurqan Alfurqan, Zainurni Zein, Abdul Salam | 127-141 |
| | | |
| --- | --- | --- |
| | Muhammad Irfandi Rahman, Nida Shofiyah | 142-156 |
| | | |
| --- | --- | --- |
| | Nur Anis Saila Pajrin, Abas Asyafah, Saepul Anwar | 157-175 |
| | | |
| --- | --- | --- |
| | Supian Supian, Sahrizal Vahlepi, Mar'atun Sholiha | 176-186 |
| | | |
| --- | --- | --- |
| | Adib Rifqi Setiawan, Mita Puspaningrum, Khoirul Umam | 187-192 |
| | | |
| --- | --- | --- |
| | ma'zumi ma'zumi, Syihabudin Syihabudin, Najmudin Najmudin | 193-209 |