TARBAWY: Indonesian Journal of Islamic Education. This journal is an Indonesian Islamic education journal. It focuses on Islamic education. It is expected to be the medium for the exchange of ideas, knowledge, information, and technology among experts and practitioners of Islamic education.
TARBAWY is a biannual journal, issued in May and November. The editors welcome submissions of papers describing recent theoretical and experimental research related to theoretical articles, empirical studies, practice-oriented papers, and case studies in Islamic Education.
This journal is an open access and peer-reviewed journal, indexed in Google Scholar, Portal Garuda, Moraref, and Crossref. All the articles published in this journal have a unique DOI number with a prefix 10.17509.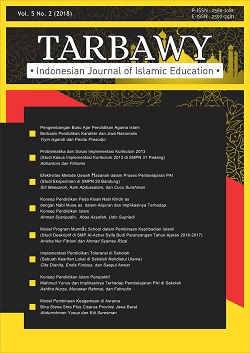 Full address (for corresponding):
Kantor Jurnal TARBAWY, Gedung Nu'man Somantri (FPIPS), Lantai 3 R. 314, Kampus UPI, Jalan Dr. Setiabudhi No. 229 Bandung 40154, Jawa Barat, Indonesia. Website: https://ejournal.upi.edu/index.php/tarbawy/index.
Announcements
No announcements have been published.
Vol 10, No 1 (2023): May 2023
Table of Contents
Articles
| | | |
| --- | --- | --- |
| | Rofi Atina Maghfiroh, Mohamad Ali, Mohamad Zakki Azani | 1 - 14 |
| | | |
| --- | --- | --- |
| | Abdul Hopid, Wantini Wantini | 15 - 28 |
| | | |
| --- | --- | --- |
| | Putri Irma Solikhah, Purnomo Purnomo | 29 - 42 |
| | | |
| --- | --- | --- |
| | Mardan Umar, Nurhayati Nurhayati, Feiby Ismail | 43 - 56 |
| | | |
| --- | --- | --- |
| | Desy Nuryani Karo-Karo, Nurussakinah Daulay, Mohammad Al Farabi | 57 - 70 |
| | | |
| --- | --- | --- |
| | Sepiah Sepiah, Rahmat Rosyadi, Wido Supraha | 71 - 84 |
| | | |
| --- | --- | --- |
| | Muhamad Ilham Fauzi | 85 - 98 |
| | | |
| --- | --- | --- |
| | Sri Wahyuni Tanshzil, Karim Suryadi, Kokom Komalasari, Leni Anggraeni | 99 - 112 |
| | | |
| --- | --- | --- |
| | Kahadiah Kahadiah, Abdul Azis Muslimin, Rusli Malli | 113 - 126 |
| | | |
| --- | --- | --- |
| | Mokh. Iman Firmansyah, Encep Syarief Nurdin, Kama Abdul Hakam, Aceng Kosasih | 127 - 140 |