p-ISSN 2355-5343 | e-ISSN 2502-4795
Mimbar Sekolah Dasar (Elementary School Forum) is an international, peer-reviewed, multidisciplinary, and open-access journal published triannually every April, August, and December. Mimbar Sekolah Dasar covers primary education studies and develops research topics into various scopes such as teaching and learning, curriculum and development, assessment and instruction, school management, educational counseling, educational policy, and STEM in primary education.
Mimbar Sekolah Dasar with eISSN 2502-4795 has been accredited (Sinta 2 since Vol. 7(3) 2020) by The Ministry of Education, Culture, Research, and Technology (Decree: 158/E/KPT/2021).
Call for Papers for Volume 10 Issue 3 (December) 2023
We invite researchers/scientists/scholars from all over the world to submit high-quality manuscripts.
Deadline 30 September 2023
Mimbar Sekolah Dasar has been indexed by ERIC, Google Scholar, Crossref, etc.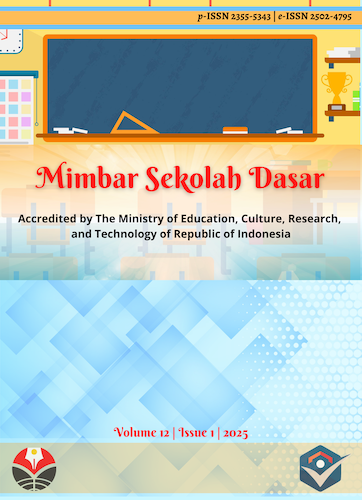 Announcements
New Policy for APCs.

For Author(s) from outside Indonesia.
Articles submitted beginning April 1, 2023, are charged $100.

Posted: 2023-04-05

STATISTICS: ERIC Metrics Report

Posted: 2021-07-05

STATISTICS: Author(s) by Country

Posted: 2021-01-09

Improving Journal Reputation

Mimbar Sekolah Dasar is being prepared for submission to Scopus and WoS.

Posted: 2021-01-01
Vol 10, No 1 (2023)
Table of Contents
Original Research Articles
| | | |
| --- | --- | --- |
| | Selda Topal, Saadet Deniz Korkmaz | 1-14 |
| | | |
| --- | --- | --- |
| | Halil İbrahim Kaya, Murat Korucuk | 15-33 |
| | | |
| --- | --- | --- |
| | Serap Öz Aydın, Nursen Azizoğlu, Fatma Bilgican Yılmaz | 34-62 |
| | | |
| --- | --- | --- |
| | Nurhan Atalay, Mehmet Mutlu | 63-79 |
| | | |
| --- | --- | --- |
| | Zainuddin Zainuddin, Framz Hardiansyah | 92-105 |
| | | |
| --- | --- | --- |
| | Yusuf Kiziltas, Mehmet Şata, Fuat Elkonca | 106-121 |
| | | |
| --- | --- | --- |
| | Muhammad Misbahudholam AR, Sama' Sama', Kurratul Aini | 122-134 |
| | | |
| --- | --- | --- |
| | Barakat Adeoti Olagunju, Rukayat Oyebola Iwintolu | 135-148 |
| | | |
| --- | --- | --- |
| | Gürbüz Ocak, Nilda Hocaoglu | 149-164 |
| | | |
| --- | --- | --- |
| | Sajidan Sajidan, Idam Ragil Widianto Atmojo, Roy Ardiansyah, Chumdari Chumdari, Fadhil Purnama Adi, Wulandari Wulandari | 165-180 |
| | | |
| --- | --- | --- |
| | Yayat Suharyat, Ariawan Ariawan, Dina Asrian Lee Cameliana, Karnawi Kamar, Achmad Zahruddin, Barrulwalidin Barrulwalidin | 181-191 |
| | | |
| --- | --- | --- |
| | Elok Puspita Sekarsari, Rusnilawati Rusnilawati | 281-296 |
| | | |
| --- | --- | --- |
| | Citra Bahadur Hanum, Wahyu Sopandi, Atep Sujana | 210-225 |
| | | |
| --- | --- | --- |
| | Sarah Fazilla, Nurdin Bukit, Sriadhi Sriadhi | 226-239 |
| | | |
| --- | --- | --- |
| | Hasan Hüseyin Yıldırım, Havva Aysun Karabulut | 240-252 |
| | | |
| --- | --- | --- |
| | Mastur Mastur, Zainuddin Zainuddin | 253-265 |
| | | |
| --- | --- | --- |
| | Nur Ütkür Güllühan, Derya Bekiroğlu | 266-280 |
| | | |
| --- | --- | --- |
| | Muhamad Abas, Sarnely Uge, Auliya Rahmasari Alwy | 281-293 |