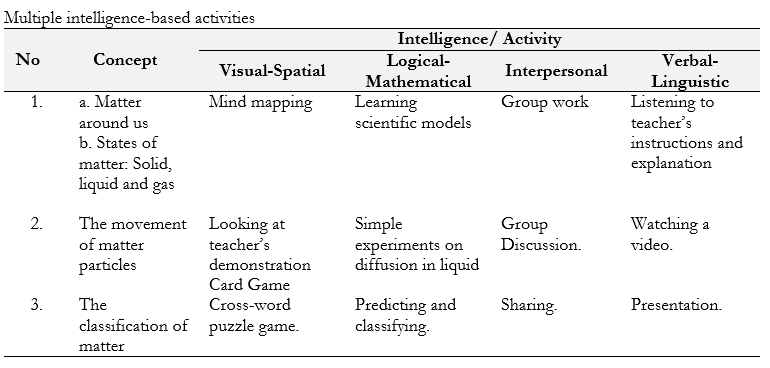 The Effect of Multiple Intelligence-Based Learning Towards Students' Concept Mastery and Interest in Matter
Abstract
This research was focused on investigating the effect of multiple intelligence -based learning as a learning approach towards students' concept mastery and interest in learning matter. The one-group pretest-posttest design was used in this research towards a sample which was according to the suitable  situation of the research sample, n = 13 students of the 7th grade in Nusa Laila Puteri  School in Bandar Seri Begawan. The students' concept mastery was measured using achievement test and given at the pretest and posttest, meanwhile the students' interest level was measured using a Likert Scale for interest. Based on the analysis of the data, the result shows that the normalized gain was .61, which was considered as a medium improvement. in other words, students' concept mastery in matter  increased after being taught using multiple intelligence-based learning. The Likert scale of interest shows that most students have a high interest in learning matter after being taught by multiple intelligence-based learning. Therefore, it is concluded that multiple intelligence – based learning helped in improving students' concept mastery and gain students' interest in learning matter.
Keywords
Concept Mastery, Students' Interest, Learning Matter, Multiple Intelligence Based Learning.
DOI:
https://doi.org/10.17509/jsl.v1i2.8739
Refbacks
There are currently no refbacks.
Copyright (c) 2018 Rika Rafikah Agustin, Wida Nur W Pratiwi, Diana Rochintaniawati

This work is licensed under a
Creative Commons Attribution-ShareAlike 4.0 International License
.